I decided to do a little research on Q*bert, due primarily to the fact that I recently learned a working title for the game was Snots & Boogers. Yes, Jeff Lee's plan for the game originally gave the main character the ability to shoot projectiles with his giant nose, but the other designer, Warren Davis, cut out this aspect. Instead, the orange guy is unarmed against a springing snake named Coily and a bunch of other bad guys. No wonder he swears so much. By the way, another working title for the game was @!#?@!, although I have no idea how you'd pronounce that. Would it be "At! Number? At!", or would we have to pronounce it like Q*bert does? The final title was decided upon by combining "cubes" with the name Hubert, resulting in a name that looks alien with a familiar twist. It's really a quite clever name, when you think about it. Q*bert's goal is to change the color of all the cubes on a giant staircase, which I guess would achieve some sort of cosmic balance or something. Or perhaps his intentions are less wholesome. We don't really know, although the NES version's manual claimed that the color-changing was the only way the alien could escape from a time warp, which I suppose is about as official as we're going to get.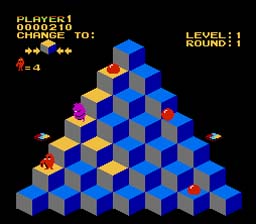 The game and its lead character were popular enough to be heavily merchandised, and even turned into a Saturday morning cartoon. Q*bert is still quite recognizable, and he shows up in the trailer for the upcoming film Wreck-It Ralph, along with several other video game characters. Reading about the character at Wikipedia, however, it looks like he never graduated into more complex video games the way Mario and Donkey Kong did. Hey, even Pac-Man had some story-based games. Q*bert, however, was limited to remakes and semi-sequels in which he did the same old thing.


I guess he's a guy who just sticks with what he knows, and there's nothing wrong with that.