I guess I'm not as familiar with the Mana series (known in Japan as Seiken Densetsu, meaning "Legend of the Sacred Sword") as I might be, but I did watch my brother play through Secret of Mana. I also have the first game, released in English as Final Fantasy Adventure, for Game Boy, but I haven't managed to get anywhere. That doesn't matter so much for this subject, though, as it's about one of the first sorts of enemy to appear in any given Mana game. I'm talking about the Rabites, little blob-creatures that resemble rabbits without legs.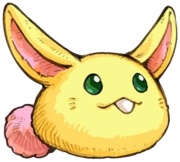 They're usually pretty easy to kill, and have become the mascots of the series, sort of like Chocobos for Final Fantasy and Slimes for Dragon Quest.


They basically just jump around and occasionally bite your characters, as the name suggests, although there are some more dangerous varieties.


Picture by Malneyugn at DeviantArt
In Secret of Mana, there's a sideshow attraction in the Dwarf Kingdom called a Rabiteman, said to be a cross between a Rabite and a human, but it's really just a cheap trick. Interestingly, there's an item called a Rabite's Foot in Final Fantasy X-2, despite the fact that Rabites don't have any feet. Or maybe the fact that they're so commonly used as good-luck charms is WHY you never see one with feet. Poor Rabites. I've also wondered if there's any connection between Rabites and Rhobites, enemies encountered in the caves of Narshe in Final Fantasy VI. They're also called Chippirabbits, so I suppose there are somewhat lagomorphic, but not quite the same. They look like green rabbits, but do appear to have legs.