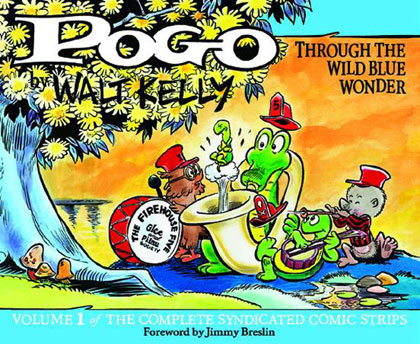 Pogo: Through the Wild Blue Wonder, by Walt Kelly – I've been on a bit of old comics kick recently, what with the Carl Barks volume I just read and the two Popeye collections I have checked out from the library. Another strip I thought I should check out was Pogo, a popular enough strip to have lasted about twenty-five years, but probably not so well-known these days. I really didn't know much about it, but I've heard good things from people with similar tastes, so I figured it was worth a shot. I have to say I find it a bit weird, but pleasantly so, and it's quite addicting. The jokes in the individual strips are often simply based on bad puns or malapropisms, but there's a definite charm that's hard to explain. References to current events sometimes show up, and I'm told these get more prominent later on in the strip's run. It's also interestingly self-referential, with the characters being aware they're in a comic strip, and sometimes commenting on the jokes. And there's quite a bit of nonsense verse, which I always enjoy.
Among the people influenced by Pogo were the members of my favorite band, They Might Be Giants, who admitted to referencing a gag from one of the strips in the opening lines to their song "Ana Ng." In addition, they have covered two songs with lyrics by Kelly, "Lines Upon a Tranquil Brow" and "Whence That Wince."

I'm not sure where the former originated, but the words to the latter come from two July 1950 strips, being "stirrin' poetry" that Churchy LaFemme used to accompany cake-stirring. The originals of both are on Songs of the Pogo, which I just added to my Amazon wishlist.