I recently read the first drafts of the scripts for Back to the Future and Back to the Future Part II, an interesting exercise. The draft for the first film contains the basic skeleton of the plot, but lacks most of the best jokes, and its time machine is totally uninteresting. It also includes such oddities as Marty bootlegging movies to raise money, Doc having a pet chimpanzee, Coca-Cola as the substance that powers the time machine, and a nuclear test site being used to generate the energy required for Marty to get back to his own time. Also, it ends with Marty having changed history to create a retro-futuristic world with flying cars and robot butlers in the early eighties. The draft for Part II is close to what we actually got in some ways, aside from the fact that Marty and Doc visit the sixties instead of returning to 1955. Some good jokes in this bit, but it was still better for the film that they changed it. I am kind of disappointed that they cut out scenes with Marty's siblings, but this was apparently because the actress who played Linda was pregnant when they were making the movie. Crispin Glover, in many ways the funniest part of the original movie, didn't agree to be in the sequels either. What I think was kind of a cheat was how Jennifer was largely written out; her part was somewhat bigger in the first draft, but still not by that much. Robert Zemeckis reportedly said that he wouldn't have had Jennifer get into the DeLorean at all if he'd known there would be a sequel, but I say that the fact she did means they were pretty much obligated to give her more screen time. Yeah, I know it was a different actress, but her part in the first movie was so small that I didn't even notice when I first saw these films.
I have to say that, while I enjoyed all three movies, the plot of the second could have been more tailored to what Doc actually says at the end of the first. He says that something has to be done about Marty and Jennifer's kids, but it turns out that only one kid is in trouble. And while he reports that Marty turns out fine, he actually doesn't, due to the constant bullying by Needles. I've also thought of a few other issues, like how Biff could have a grandson about the same age as Marty's son. Granted, we're never specifically told that he doesn't have kids in 1985, but it still strikes me as a loose end. When I mentioned this on Twitter, Jared Davis suggested that Griff could be a clone.

One problem with stories set in the future is that they end up getting so much wrong. Even when something is set in the far future, there are references to the past to think about. Hey, weren't the reign of Khan and the Eugenics Wars supposed to have occurred in the 1990s?


KHAAAAAAAAAAAAAN!
And what about suicide booths being introduced in 2008? Okay, maybe in the latter case, they just haven't been made public yet.


Anyway, It's not like you can really blame anyone for that, although all the major technological breakthroughs in a mere twenty-odd years that we see in BttF2 were particularly unlikely. Mind you, I'm inclined to think we have the technology for flying cars, but people are just too dumb for them to be practical. Think about how many bad drivers there are now, and imagine how much worse it would be if they could take to the sky.


Obviously we're still nowhere close to getting cold fusion, but do we know for sure that Mr. Fusion was supposed to be common in 2015? Maybe Doc retrieved this device from even farther in the future. Hey, it could have happened, right?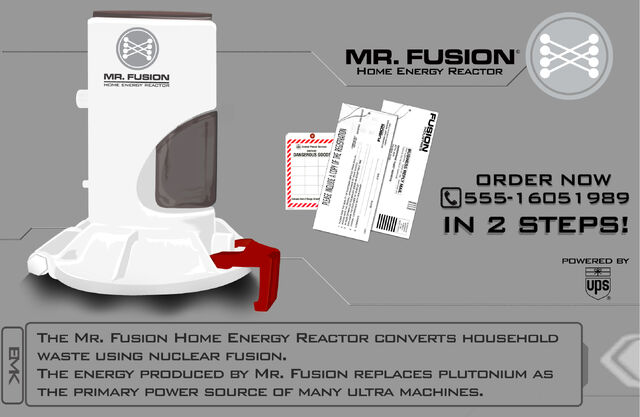 That said, remember how Hill Valley was pretty trashed-down in 1985? Where did they get the money to fix everything up for 2015? I guess the invention of cold fusion could explain this, as it would mean spending a whole lot less on energy sources. Or maybe we can tie in the ending from the first draft of the screenplay for the first film, and say Coca-Cola had something to do with it. Then again, it was Pepsi that was actually referenced in Part II.
Some additional links:
Ryan North reviews the novelization of the original film, the Tumblr from which I got the links to the screenplays
Back to the Future Part II: How Close Will We Come?