You may know that L. Frank Baum had four sons, so did any of them try to follow in the family business, if you consider writing Oz books to be the family business? Actually, yes, two of them did. Unfortunately, neither seemed to really understand what made their father's books good. Still, they have some interesting ideas, and the stories behind them are worth some mention. The oldest son, Frank Joslyn Baum, wrote Rosine in Oz in the early 1930s. Reilly & Lee, the official publishers of the Oz books, rejected it. Instead, about half of the story was printed by Whitman Publishing in their oddly shaped Big Little Book format, under the title of The Laughing Dragon of Oz.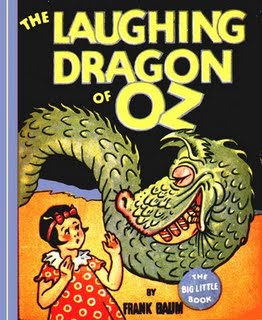 Reilly & Lee sued Whitman, and Frank's mother Maud took the side of R&L, creating some family tension. I recall reading that Ruth Plumly Thompson suggested R&L publish Frank's future stories with her editing them. I don't know if this suggestion was ever seriously considered, but it sounds to me like it would have been a better idea. Oh, well. What's strange is that Frank never uses any established Oz characters, yet rips off a lot of them. The full version of his tale includes a girl accompanied by an old sailor, a princess turned into a boy by a wicked witch, a region of the country that puts people to sleep, and an underground creature who turns people into objects.


Picture by Denis McFarling
He did work in some clever ideas worthy of his father's fairyland, like living mailboxes that have minds of their own but have to deliver any letters dropped into them, ovens that need to have the food they cook eaten in order to survive, the Tile Animal, and the Laughing Dragon himself.


Picture by Shawn Maldonado
A little more originality would have been nice, though.


Picture by Kimberly Frodelius
There are actually a few more recent stories that mention Frank's characters, most notably Chris Dulabone's The Three Imps of Oz, which makes the Imps from the story "Ozma and the Little Wizard of Oz" subjects of the Ruby Imp.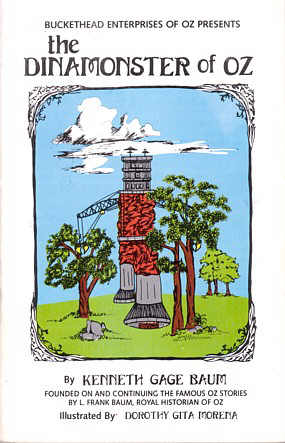 The other son of L. Frank Baum's who attempted an Oz book was Kenneth Gage Baum, the youngest of the four. He wrote The Dinamonster in Oz in 1941 as an attempt to modernize the fairyland somewhat. Kenneth sent both this and his original work Glasso the Chemical Man to R&L in 1950, but they rejected both. (Oddly, one of the few mentions of Glasso that I can find online is on the blog of someone I know through means other than Oz fandom, and attributes it to Kenneth's daughter Ozma, whom I actually met about fifteen years ago. Strange how that all works out.) The book was finally published in 1991, after the copyright on the earliest Oz books had expired, by Dulabone. Kenneth does use his father's characters, mostly but not entirely ones from the first book, and for the most part keeps them faithful, although the Scarecrow needing to have his brains replaced is new. Also, Ozma seems to be more powerful than Glinda, a reverse of the usual situation. While probably a more competent writer than his brother, at least Frank had kept Oz whimsical, while Dinamonster is rather bland. The story involves the Nomes using a war machine shaped something like a giant office building (an early antecedent of the Transformers, perhaps?) to steal the Metachron, a device that regulates all time in Oz. Wait, what? Oz is also apparently a lot smaller than it is in L. Frank Baum's books, it never rains there, and the desert isn't deadly. The oddest element of the story, however, is that it's presented as a battle between magic and technology. In order to defeat the modern science of the Nomes, Glinda and the Wizard of Oz combine science with magic, which the Wizard says "has never been done before in the Land of Oz!" What about the submersible island and submarines of the Skeezers, the Wizard's portable radio-phones, and even Tik-Tok? Stephen Teller's afterword points out that Kenneth was likely inspired by the arms race that was quite relevant at the beginning of World War II, and while that makes sense, it pretty much disregards that the elder Baum had been combining the two throughout his works. Ruth Plumly Thompson and John R. Neill picked up on this as well, with some of their books having what we'd now consider science fiction themes. Besides, when the Nomes' "modern science" includes emeralds that allow the Nomes to see in the dark but also bend their will to that of the Nome King and colored lights that destroy buildings…what are the scientific bases for these things? One of Kenneth's new characters is a boy from Omaha called Tripp (wonder if Bristol Palin read this book) who arrives in Oz in a rocket-plane. Rachel Cosgrove Payes mentioned that the opening chapter of her Hidden Valley had to be revised because it brought Jam to Oz in a rocket, and R&L "had rejected another manuscript which also used a rocket ship." Based on the time period, it's likely that this manuscript was Dinamonster, but it's strange if they cited the rocket-plane as the reason they rejected Kenneth's manuscript. Mind you, neither one was totally original, as Thompson brought Speedy to Fairyland in a homemade rocketship in Yellow Knight. I don't know that either Kenneth or Rachel had read that book at the time, though.