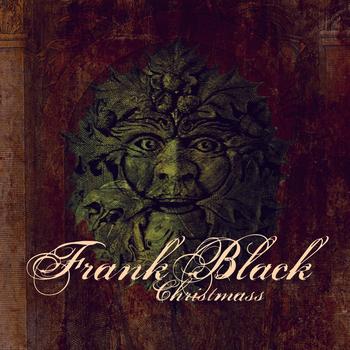 Frank Black, Christmass – I talked a bit about this record when it first came out, but I thought it might be worth revisiting since I've been looking back at Frank's work and it's near Christmas. Not that the album directly relates to the holiday, but it came out around then, and I remember Frank saying something about how he thought the double-S spelling gave it an old-fashioned feeling. It's a really good collection that I find myself returning to at all times of year, featuring a mix of new songs and live acoustic recordings of both Pixies and solo work.
(Do What You Want) Gynaneshwar – A fast, rather jangly song with kind of fragmented lyrics about an actual news story. Sadanand Tewari, a gangster turned guru, started going by Sant Gyaneshwar after a famous thirteenth-century Hindu saint. In February 2006, he and some of his followers were gunned down in a hail of bullets from rival gangsters. One oddity of the lyrics is Frank's pronunciation of the "AK" in "AK-47" as just one syllable.
Bullet, I Burn Today, Wave of Mutilation – Live solo versions of three already-released songs, the first two probably being my favorites on their respective albums.
Living on Soul – Originally a B-side on the All My Ghosts EP, this is one of my favorite non-album Frank songs. I'm not entirely sure what all the lyrics are about, but it mentions nuclear testing in the Bikini Atoll and the obsolete computer programming language PL/1. The line about "poor Charlie on the MTA" refers to a song originally recorded for Walter O'Brien's campaign for Mayor of Boston in 1949, then made more famous by the Kingston Trio. It's about a guy who is unable to get off the Boston subway because of the complicated exit fare system, which O'Brien sought to reform.

Another interesting lyrical note is that the earlier recording included the line "I'm just a monster, not a proto-human," while this one says, "I'm NOT a monster, JUST a proto-human." I like this version better.
She's My Way – How often do you hear Frank with a string section? While I don't know if it's been confirmed what the song is about, I've seen it suggested that it's about a racehorse, which would make sense.
I don't have much to say about the next three, "Massif Central," "Where Is My Mind?", and "Raiderman"; but they're solid performances, and I appreciate how the audience provided backing vocals on the second one.
Demon Girl – Another studio recording original with this record, and I don't think it's actually been re-released since then. It's a favorite of mine, with absurd lyrics that almost parody hardcore rock about dark subjects. Basically, the narrator discovers a demon who's been stealing his guitars, then marries her and lives happily with her until she runs off to Idaho. It has Frank on acoustic guitar and vocals, approximating a British accent at times. His part was recorded at a hotel, and the bass and synthesizer added in the studio.
Dead Man's Curve – Frank has stated that this song is about Freddy Fender, who died a few months after the premiere of this number. Frank had earlier name-checked Freddy in "I Want Rock and Roll," and I wouldn't be surprised if his songs that combined English and Spanish lyrics were an influence on Frank's tendency to do the same. A studio version of this song appeared on Nonstoperotik. The song transitions well into the Pixies' "Cactus," then is followed by an a cappella "Six Sixty-Six."
Radio Lizards – Another a cappella song, but this one recorded in the studio. It combines multiple vocal tracks by Frank and Mark Mulcahy, who had played in Miracle Legion and Polaris with Catholics Dave McCaffrey and Scott Boutier, resulting in a dreamlike feel.
Don't Get Me Wrong – A kind of eerie song with whispered vocals sung into a hot microphone, all done in one take. The organ and backing vocals were added in later.
All Around the World – An American folk song of uncertain origins that the Grateful Dead performed pretty often.

It's about a convicted murderer, and while the lyrics vary somewhat from one version to another, Frank updated several of them. References to hanging, the Blue Ridge Mountains, and a six-shooter have been changed to lethal injection, Signal Hill in the Los Angeles area, and a semi-automatic. While this was recorded for Honeycomb, I don't know that the recording was every released. For a while, this was performed acoustically by the Pixies.
Nadine and Manitoba – Rami Jaffee joins Frank on stage to play accordion for these two Show Me Your Tears songs. The latter has accordion on the studio version, but the former doesn't.
The Water – The story about a guy who leaves Los Angeles and gets involved in criminal activity in South America, but I don't know whether it's about anyone specific. La Barra is a resort area in Uruguay, but I'm not totally sure that's the La Barra mentioned in the song. There's an alternate version of this on Abbabubba.
Outtakes/Song of the Shrimp – Most of this track is just Frank talking to the crowd in between songs, with them constantly yelling things at him that he can't understand. Does anyone know what song an audience member calls out that he dismisses with "Nothing even rhymes in that song"? He finally plays one of his favorite covers, which had been performed by Elvis, although he hadn't heard the Elvis version prior to recording his own. I don't know if he has in the several years since then.

Here's a performance of the song by Townes Van Zandt, who inspired Frank's cover: