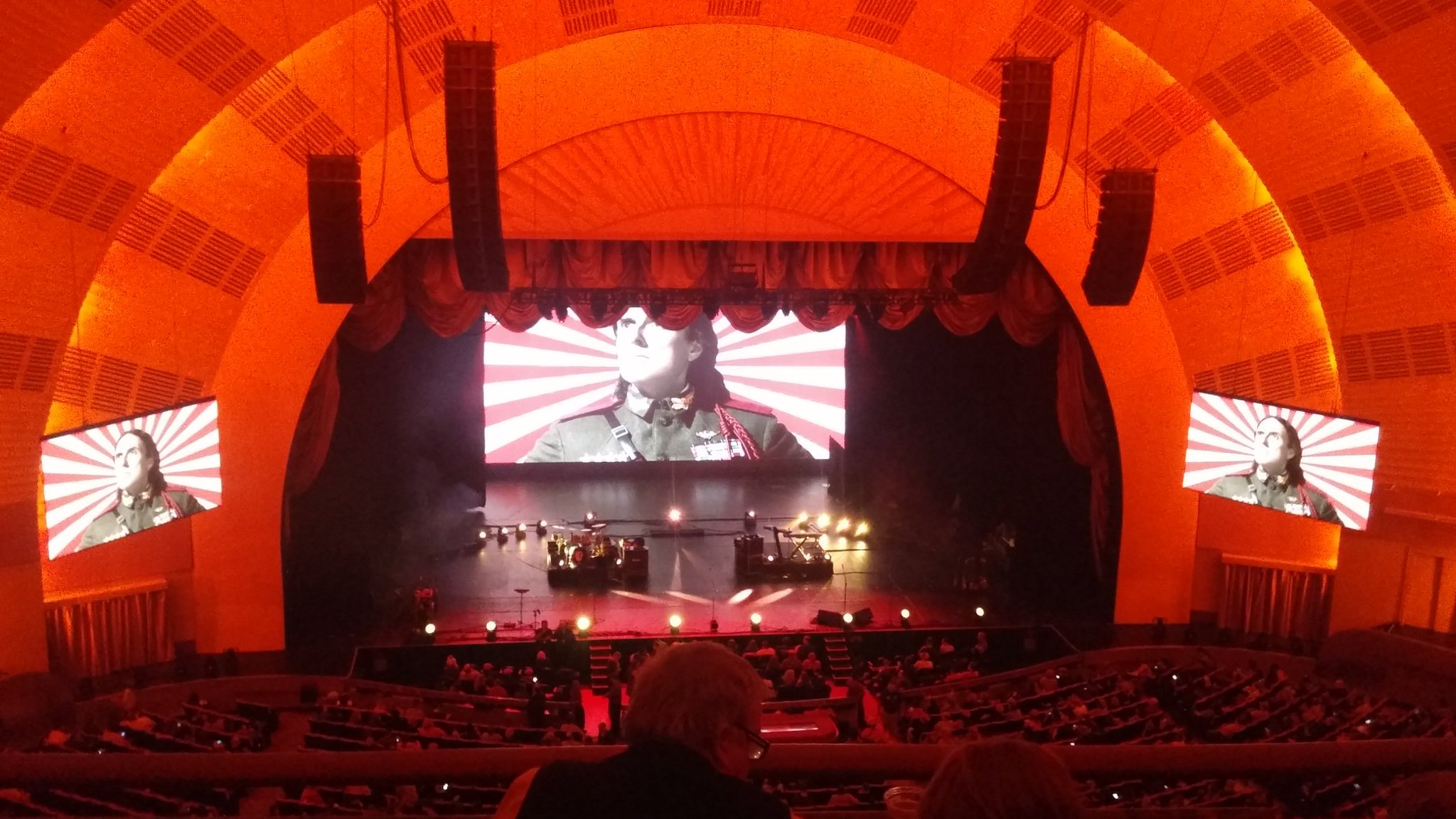 Last night, Beth and I saw "Weird Al" Yankovic at Radio City Music Hall, the last performance of his Mandatory World Tour, in support of an album that came out two years ago. I think the guy deserves some rest at this point. The show was sold out, and I'd actually bought tickets back in February. I think this was the seventh time I've seen him (I said sixth on Twitter, but I was forgetting when he did a shortened show at Hershey Park, so maybe it's more like the sixth and a half), and the show has been pretty standard over the years. The setlist changes from one tour to another, but there are some standard inclusions ("Fat," "Smells Like Nirvana," "Amish Paradise"), and older ones that he'll give a rest but then bring back. For instance, "Dare to Be Stupid" was part of the set this time.


While Al and the band go backstage for costume changes, a screen will play clips of media in which Al appeared or was mentioned. I wonder if he has interns who collect all this stuff for him. The first time I saw Al live was on the Bad Hair Tour in 1996, and I seem to recall him doing more live bits in between songs, but those seem to have fallen by the wayside. The show opened with "Tacky," which had a video of Al coming in from outside the venue and making his way up the aisle to the stage.


For "Perform This Way," he wore a purple octopus outfit.


As usual, there was a medley of song parodies featuring quick costume changes. In fact, a few of the transitions were done specifically with the costumes in mind.


"Party in the CIA" led into "It's All About the Pentiums" because a black suit and tie were appropriate for both, and the pink bathrobe Al wore for "Inactive" is mentioned in the first line of "Ebay." There was also a second medley of old parodies performed acoustically, made up of "Eat It," "I Lost on Jeopardy," "I Love Rocky Road," and "Like a Surgeon." Making further jokes out of songs that were already jokes is kind of bizarre, but it worked.


Al did a James Brown bit at the end of the main set, then returned for his standard encore of "The Saga Begins" and "Yoda," accompanied by a dance line of Storm Troopers with Darth Vader in the middle.


I actually saw him once when he DIDN'T end with those two songs, but he still played them, just earlier in the set. When he sang the line "I guess I'll train this boy," he motioned to Vader, who lit up his lightsaber. "Yoda" is still performed in its original accordion-and-percussion arrangement rather than the close-to-the-original version on Dare to Be Stupid. It includes a chant performed by the band, which adds a little bit on each new tour. I'm not sure if any bits have been removed over the years; it does seem like a lot to remember. Lin-Manuel Miranda joined Al on stage to sing a line. I actually already knew he was there because Michael Ian Black mentioned it on Twitter, but I didn't know whether Al would acknowledge the fact. After the show, I bought a "Word Crimes" T-shirt, which I think people who have known me for a while will find appropriate.