Just when you think there aren't any further depths to which Donald Trump can sink, he goes way beyond the bottom of the Marianas Trench. Granted, this time it wasn't anything new, or for that matter anything that added much to what we already knew, but it combined it into a neat little package. A tape from 2005 has surfaced, featuring Trump talking to entertainment show host and close relative of two former presidents Billy Bush about how he can get away with sexual abuse because he's famous. The even more disturbing thing is that he's probably right. Several prominent Republicans have withdrawn support from his campaign, but I have to wonder what took them so long.


Trump himself and those who are determined to go down with the ship dismiss it as "locker room talk."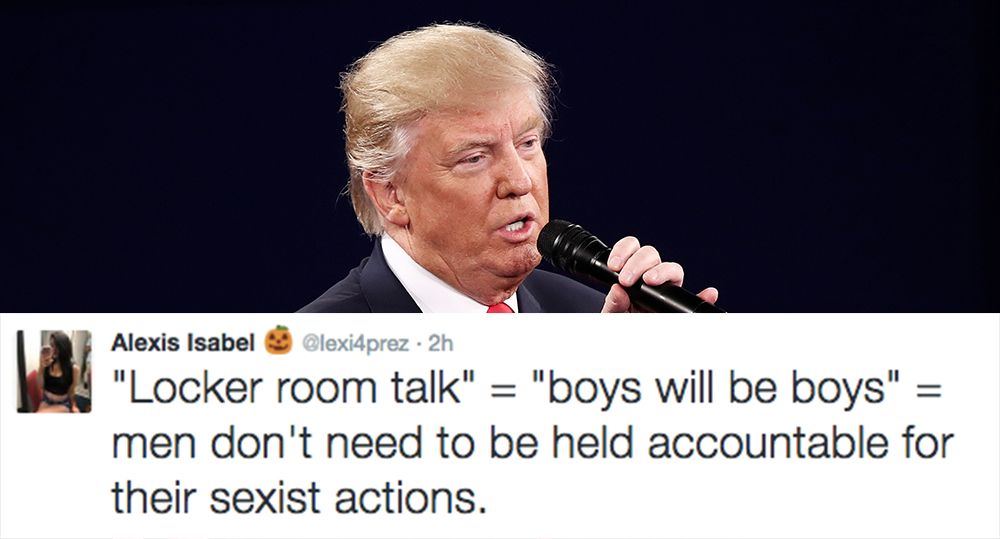 I couldn't really say how accurate that is, as it's been years since I was in a locker room. In school, being there was so uncomfortable that I didn't pay much attention to people's conversations. I don't doubt that it goes on sometimes, but I also can't buy that that it's just typical of men. It sounds suspiciously similar to when pedophiles claim everyone would have sex with children if they could get away with it, which they might honestly believe, but obviously isn't true. And if entitled talk of sexual molestation actually is that commonplace, doesn't that point to a larger societal problem that Trump and his supporters don't seem to care about? It's not even the perversion so much as the entitlement that's the problem; you can have the desire to have sex with strangers without thinking it's okay to act on it. I felt bad for Billy Bush at first, as I know I wouldn't argue with a crazy guy who was closed in a van with me, but apparently he's made a lot of inappropriate sexual comments even when Trump wasn't around.

When the tape and other instances when Trump acted like the gross bigot he is were brought up at the debate, he just brushed them off and started talking about something irrelevant. But then, he did that no matter what the question was. There's always some of that in debates, because the candidates want to stay on message, but Trump takes it to extremes. "So, Mr. Trump, were you admitting to sexual harassment?" "ISIS is bad!" Yeah, you have pretty much the same attitude as ISIS when it comes to women. He also whined about the debate being rigged against him, even though he ended up getting slightly more time than Hillary Clinton. Also, we just received confirmation that he's okay with sexual assault, so maybe it SHOULD be rigged against him. Oh, and if he's elected, he'll throw his opponent in prison. So much for due process, or for that matter even coming up with a charge, I guess. Maybe he just doesn't know how the legal process works, since he also apparently thought Hillary could change the tax codes all by herself if she'd been a good enough Senator. Or he knows better, but hopes his followers don't.

I recently read an article about how much Trump loves conspiracy theories, including long-debunked ones about Bill and Hillary Clinton (because apparently they're the same person). I've noticed that conspiracy theorists like to talk about very specific and usually fairly obscure people, insisting that they're behind pretty much everything wrong with the world. I was wondering who these Sidney Blumenthal and Jonathan Gruber people were, but just because I don't know about somebody doesn't mean they're not famous. But no, they're apparently names that only right-wing conspiracy theorists are likely to recognize. "Benghazi" is another term along the same lines. Yes, it's a real place where a real tragedy happened, but to conspiracy-minded conservatives that's not what matters. Rather, it's simply a pointer to some largely web of secrets and lies involving the Clintons. Actually, we all know now that the REAL leader of the secret world government is Kenneth Bone.