The Thirteenth Princess, by Diane Zahler – This story is essentially an adaptation of the fairy tale of the Twelve Dancing Princesses, looking at the tale from a different perspective and bringing in a thirteenth sister as the main protagonist. The thirteenth princess, Zika, has been banished to work in the kitchen as the king didn't want any more daughters, but she eventually finds out her true heritage and becomes friends with her sisters, and even receives some grudging respect from the king. When the other princesses come home after their nights of dancing, they not only have worn-out shoes, but are very ill. The soldier who solves the mystery in the fairy tale and the witch in the woods who helps him out are both present here, and there's an explanation for why the princesses are forced to dance every night. It came across as fairly slight, but still enjoyable.

Alex and the Ironic Gentleman, by Adrienne Kress – While largely a Treasure Island style adventure with pirates and buried treasure, only with a female protagonist and pirate captain, it also mixes in a few other genres for a varied and surreal experience. When Alex Morningside learns that her teacher is descended from a pirate who buried a treasure, and an assassin kills her uncle, she sets out to sea. On the way there, she encounters a nasty group of women from a historical society, a man who's draining the souls from passengers on a train, a giant octopus who's also a temperamental actor, a friendly magician with a drinking problem, and a strange assortment of pirates. It's funny, but also takes itself seriously enough to keep readers engaged. One of my favorite parts was the Extremely Ginormous Octopus, who longs for a time before motion capture when movie monsters were played by actual monsters, and has a pompous but sympathetic attitude. I understand Kress wrote another book set in the same continuity, but the library doesn't currently have it.

The Yellow Wall-Paper and Selected Writings, by Charlotte Perkins Gilman – The author was a feminist social reformer who is considered quite progressive for her time, the late nineteenth and early twentieth centuries. The lead story, Herland, is a short novel about a utopian society made up entirely of women. It's told from the perspective of a male explorer who visits with two other men, all of whom have their views on femininity challenged by their visit, particularly the idea that women are naturally competitive with each other. The women are able to give birth without the need of men, and childcare is a collective enterprise rather than an individual one. It ends with the narrator and one of his male friends having to leave the country after the friend makes sexist insults. The volume also includes short stories and poetry, the former of which often have the theme of women improving their lives by taking matters into their own hands. The title story is a more depressing one that's actually partly autobiographical, about a woman who is confined to a single room with no real activity when suffering from postpartum depression, and she eventually descends into total psychosis. The same basic thing happened to Gilman herself after she had her first child, although she managed to get out and separate from her husband before she could reach the depths that her character did.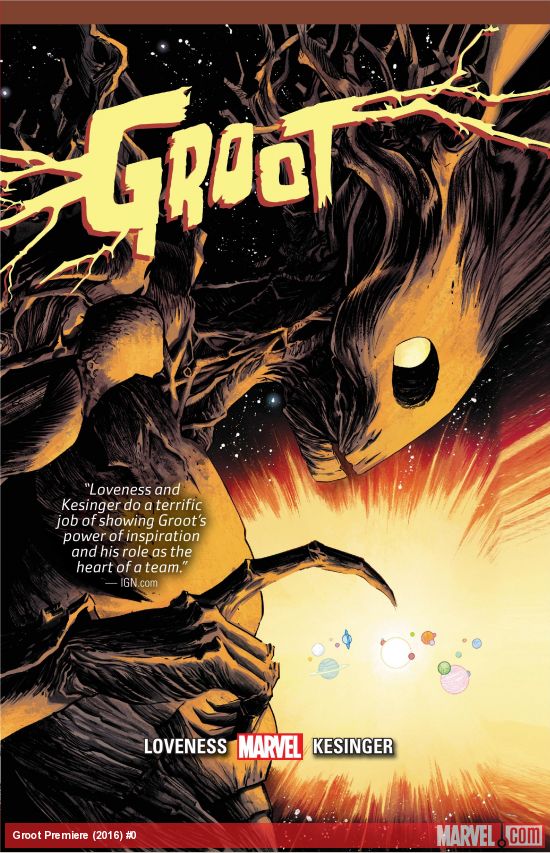 Groot, by Jeff Loveness and Brian Kesinger – Unlike the others I'm reviewing here, this one doesn't have a female protagonist, instead featuring a talking tree. Groot and his best friend Rocket Raccoon are traveling to Earth to find someone who had been kind to the tree in the past, but come upon a lot of ridiculous misadventures prior to getting there. It's pretty cartoonish in style, including a Superman parody with Rocket stealing a ship from a baby on a doomed planet. There's also a flashback to how the two first met. When Rocket is captured by a villain, Groot assembles an unlikely team of three incompetent Skrulls and a robot based on 1996 computing technology to rescue him.


Very funny, but also a good exploration of Groot's character.