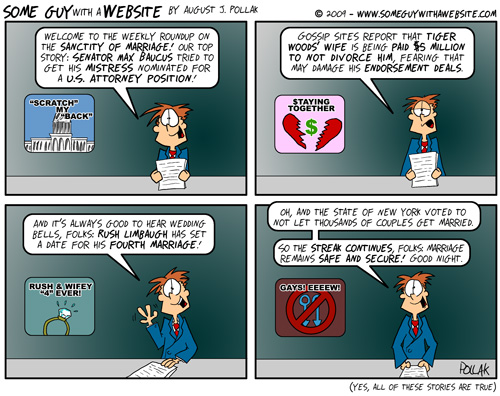 I seem to recall reading that the phrase "sanctity of marriage" wasn't used until fairly recently, and was pretty much just a response to how marriage is changing in our society. That must not be entirely true, because a quick search yielded something from the United States Conference of Catholic Bishops that used it back in 1978, but it is true that it suddenly became much more common after gay marriage became a thing. But hasn't marriage always been a mostly legal and economic arrangement? Traditionally, marriage quite often favored the man, with the wife being essentially property. Gifts were often given from the groom to the bride's family, and sometimes vice versa.


And marriage organized the household in determining that children were legally those of both parents, hence avoiding disputes on the matter. It could be used as a way to combine the wealth of different families, and having heirs kept property in the family, as well as providing new people to learn the family business. And there are still a lot of economic factors involved. While my wife and I did and still do love and want to support each other, it was when she had a job with health insurance that we actually married. (She doesn't have that job anymore, by the way, and we're on separate health plans, but that's beside the point.) You can have joint bank accounts, file taxes together, etc. That doesn't mean it can't be about other things too, but the financial aspect seems to be what really separates a married couple from an unmarried one.

The thing I have to ask about people who want to use the Biblical definition of marriage is whether there really even is one. The Bible discusses marriage and lays down rules for things you can't do (e.g., commit adultery or marry your sister), but does it ever define it? The impression I get is that marriage was already a standard part of Hebrew society, so Moses or whoever didn't feel the need to explain how it worked; everyone already knew that. Genesis suggests Adam and Eve as a model of marriage, but that doesn't make a whole lot of sense when they were, according to the text, the only two humans on Earth, and hence had no real need to make a social contract.


They wanted to make sure Eve wasn't going to have an affair with that unicorn.
Besides, rich men frequently had multiple wives and concubines in the society described. It's also a culture that favored having lots of children, probably because you needed extra hands to work on the farm, and because kids frequently died young. The Book of Exodus begins with the Pharaoh being concerned that the Hebrews would overwhelm the Egyptians in sheer numbers. Maybe that's because the Egyptians had birth control. But anyway, the prohibitions against homosexuality (which might not have even existed in earlier versions of Leviticus) were likely because that kind of sex couldn't produce heirs, and nobody knew enough about reproduction to realize that the men would still have plenty of sperm left over for baby-making.


(So maybe Adam and Steve were just for pleasure, and Adam and Eve to make kids who wanted to murder each other.) I've seen it suggested that the prohibition was in response to temple prostitution, and while maybe there's something in that, surely there was HETEROSEXUAL prostitution in such temples as well? It also says in Deuteronomy that a rapist has to marry his victim, paying off her family in the process, which only makes any kind of sense if you place financial concerns above even the most basic ethical ones. In ancient Greece, erotic love between men was common, but most of those men presumably also married in order to have children. In a world that's both overpopulated and with known ways for a couple to have children beyond the traditional, these don't really seem like significant concerns anymore. Do people who are against gay marriage also object to childless straight couples? And if it's really about sanctity, is a married straight couple that wasn't married in a church technically living in sin? They're not arguments I've really heard, although opposition to birth control is disturbingly common. But really, if marriage is primarily a legal and economic matter, how do religious beliefs even come into it? Apparently the churches didn't even view marriage as a sacrament until the twelfth century, so it's hardly something they can say goes back to the Bible. That's not to say ancient marriages didn't involve gods, but most legal agreements did in those days. When a society has freedom of religion, that becomes less significant on a larger scale, although individuals can certainly dedicate their marriage to whatever deity they want. I've frequently come across mentions by the religious faithful on how God should be at the center of a marriage, which as an non-believer I can't help but imagine as thinking of Jesus during sex. That's probably not what Christians mean, but they DO have a tendency of portraying Jesus as attractive.


But isn't an omniscient, omnipresent God already at the center of everything? Why is He more integral to marriage than to grocery shopping, tooth-brushing, or using the bathroom? Even the god Hymen is really only significant once.


You can keep God at the center of your marriage if you want, but to me that seems to take away from the spouse.
Marriage for love only became the norm in the twentieth century, and even now there are plenty of people who love and support each other but aren't married, or who are in loveless marriages. It's a significant aspect of modern marriage, but it's not necessarily an integral part. It's even kind of strange that failure to consummate can still be used as grounds for a legal annulment; why should whether you can file a tax return together depend on whether you've had sex? Yes, that makes sense for many people, but there's nothing I can see that necessitates that connection. I wouldn't cheat on my wife, but that's because I respect HER, not the institution of marriage.