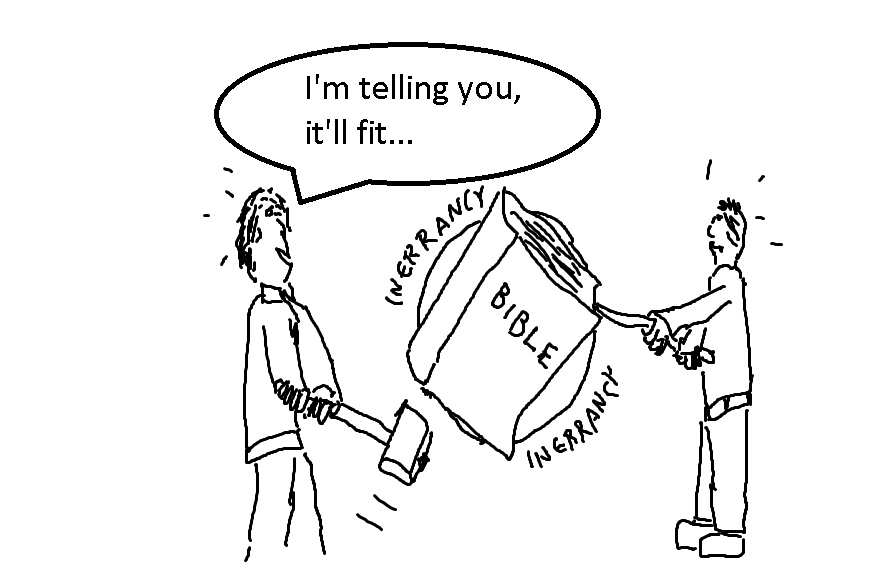 One thing I've found is that, when someone discusses the Bible from a secular perspective, there will be devout believers who get angry about it, even though no one is actually attacking their faith. I guess part of the problem is that, if you believe that the Bible is inerrant, or even just wholly inspired by God, they not only see it as true, but as more true than anything else. I've read the Bible, and I noticed a lot of contradictions and general oddities. I've heard from people who do believe that I'm reading it from the wrong perspective, and maybe they're right, since they're able to obtain comfort and meaning from it and I'm not. Religious faith seems to be one of those things where people who have it don't understand people who don't, and vice versa. Really, though, is faith really dependent on the Bible, or do people just use the Bible (or any holy book, for that matter) to support what they already believe? The Bible contains a lot of different viewpoints and opinions, certainly not what you'd expect from a single document dictated by God Almighty, but exactly what you'd expect from a bunch of different texts written and rewritten many times by many different authors. And, from what I've read, historical and archaeological research have determined that a fair amount of the historical information in the Good Book isn't entirely true. There is, for instance, no independent evidence for the massive exodus from Egypt.


The thing is, even when I decided I probably didn't believe in God, I still figured most of the historical stuff was still true. Parts of it have such detailed descriptions and developed characters that they seem like they could be accurate, and others are so boring that I can't see why anyone would bother to make them up. And there are certainly mentions of people and events that are corroborated by other sources. Ultimately, I think it's about as reliable as any document of its place and time (really places and times plural). There's enough accurate stuff to serve as a general baseline for further research, but also a lot of propaganda, exaggeration, and interpretation of events to fit a particular agenda. The thing is, I've known believers to get angry whenever research determines something in it may not be true; and when something DOES turn out to be accurate, they'll insist it corroborates the Bible as a whole. There was something I came across recently about how some believers considered it a victory for their side when it was discovered that people called Hittites existed, even though the term pertained to several different civilizations in both the Bible and elsewhere, and the existence of a nation doesn't mean everything told about them is true.


If there were Hittites, were there Punchites and Kickites as well?
Or there's the mention of the House of David on the Tel Dan Stele, which really doesn't indicate whether or not there actually was a King David, just that it was a name that was associated with the ruling dynasty of Judah.


"Come on, stop harping on that."
I've always had an interest in mythology on multiple levels. One is the historical one, determining when and how the stories were written, how they changed over time based on changing circumstances, and how much verifiable history remains in them. Another is as stories, and even that can be subdivided into whether they're fun to read and in trying to make sense of the fictional or pseudo-fictional world in which they take place. Of course, most of them don't have any one official version, so while it's fun to speculate on how Medea could have shown up in Athens to try to kill Theseus when other evidence indicates this was BEFORE she ever left Colchis with Jason, the truth is presumably just that the two stories developed independently with no real thought about continuity. And when various mythologies are mixed together, that makes things even more complicated, but also more fascinating, at least to me. this is where you get stuff like Britain or Scandinavia being established by Trojans who barely escaped the destruction of the city, the Kings of England being descended from the Kings of Judah, or the Ark of the Covenant ending up in Ethiopia. It's like there's a whole mythical history that sort of but not entirely parallels the real one, so we can ponder things like whether Cepheus and Cassiopeia were related to the Queen of Sheba, since they all were at times associated with both Ethiopia and Israel.


Over time, there have been some quite creative interpretations of the Bible to explain away contradictions and add details, but there wasn't always any real historical research involved. Sure, it COULD have been the case that Judas Iscariot both hanged himself and fell into a field and died, or that there was both a woman created at the same time as Adam and another made later from his rib; but isn't that adding to the Word of God?


Or were the people who came up with these explanations also divinely inspired? And when rabbinical literature or later books that are generally considered apocryphal provide details on brief mentions of things like God taking Enoch, the Nephilim, and Nimrod as the founder of great cities, were they following earlier traditions, or just coming up with fan theories? And does it matter, when it appears that the current forms of most of the canonical books weren't finalized until long after they were originally thought to have been written anyway? Again, I think it depends on what level you're looking at: that of spiritual guidance, of historicity, of authentic tradition, or of interesting stories.