Mary Poppins Returns – SPOILERS! I actually came in to this one a few minutes late, because apparently I can't make a 5:30 showtime when I leave work at 5. I think I saw enough of it to offer an informed opinion, though. I felt this was something I should see, despite my somewhat mixed feelings on the original film. As a friend of mine mentioned, it paralleled the original film quite a lot, but had better pacing. Taking place twenty-something years after the first movie, Michael Banks now has three children of his own. Two of them, John and Annabel, have the same name as younger siblings in the books. The youngest, Georgie, was named after his grandfather. Michael's wife just recently died, and his house is threatened with foreclosure. It's into this setting that the magical nanny comes back to work her magic for the children.


I read the first four Mary Poppins books around when I rewatched the film, and this one incorporates bits of these stories while changing the details and mixing things together. Mr. Turvy, who has a day when everything goes the opposite of what he wants on the second Monday of each month, becomes a woman. This isn't all that weird, though, since he says his parents wanted a girl, and he marries a woman named Topsy. The character is played by Meryl Streep, and as is pointed out on the IMDB, she uses the same Polish accent she did in Sophie's Choice, a very different sort of movie.


The incident where Jane goes inside the scene on a Royal Doulton bowl becomes another scene with cartoon animals, much like the chalk drawing bit in the first movie, with similar animation.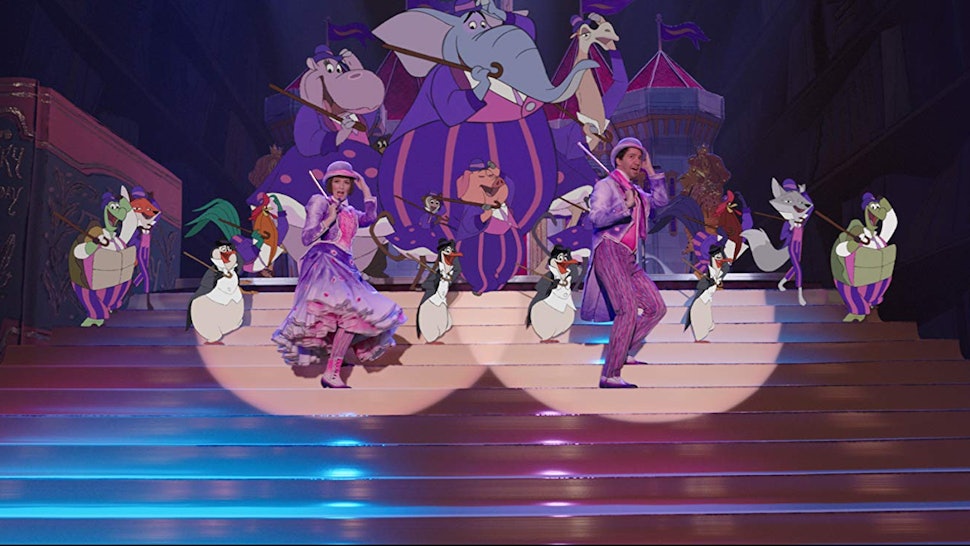 There were a few different talking animal segments throughout the books, but that wasn't originally one of them. Other elements from the books that were used somewhat differently include Mary arriving on a kite (in the film, Georgie goes after it, at which Beth remarked that the last movie we saw with a kid named Georgie going after something didn't work out so well), the cranky park keeper, an undersea sequence, everyone buying magical balloons, the opening door marking Mary's departure, and the stories about Nellie Rubina and the Dirty Rascal. And while the books are episodic, this movie follows its predecessor in having an overarching plot, and differs from both in bringing in a truly villainous character in William Weatherall Wilkins, Mr. Dawes Jr.'s nephew who uses underhanded methods to foreclose on houses, while all the time putting on a friendly face. He's even reflected in the animated sequence as a wolf with the same voice and mannerisms. The role of Bert is taken by Jack, played by Lin-Manuel Miranda, introduced as a former apprentice to Bert and an admirer of Jane. Dick Van Dyke does make an appearance as Mr. Dawes Jr., a reference to how he played Mr. Dawes Sr. in the previous film.


And elements from the first movie become plot devices here, including the kite and the tuppence (apparently Fidelity Fiduciary has REALLY high interest rates). The songs also echo the ones from the original movie, but are different enough to stand on their own as well. And it's not necessarily always a one-to-one match anyway. For instance, "Trip a Little Light Fantastic" is an obvious counterpart to "Chim Chim Cher-ee," but the tune references "A Spoonful of Sugar."


Emily Blunt has said that she intentionally tried to play Mary as more of the stern, vain characters from the books than Julie Andrews' more elegant portrayal. I thought she was prettier than Andrews, but that's just my personal taste. Beth said that her look reminded her of Betty Bowers, the character spoofing fundamentalist Christian hypocrisy played by comedian Deven Green. Another point Beth made was that Mary Poppins, in modern parlance, gaslights the children; and actual gas lights feature prominently in the film, as Jack is a lamplighter. If that wasn't done on purpose, it was a striking coincidence. I must say that Disney managed to come up with a successful sequel to one of their classic films all these years later. Can you imagine that?
While the end credits were rolling, there was a kid riding a scooter in the aisle. How she got it in, I don't know, but it seemed appropriate for that particular film. Maybe someone sneaked in into the theater in a magic handbag. This is the third movie I've seen in the theater in about a month, which is unusual for me. I don't know that I'll be seeing anything else there until Captain Marvel comes out in March. I'm sort of interested in Aquaman, but I think I can wait for the video release.