Here are my thoughts on a few movies I've seen recently. We really haven't been making the most of our Netflix account as of late. They seem to be de-emphasizing movie distribution in favor of the creation of original content these days anyway, but that's not really related to this.

Blair Witch – Beth showed me the original The Blair Witch Project years ago, but she had a habit of starting movies when I was incredibly tired, so I don't remember all that much about it. While I paid more attention to this one, I think not recalling many of the details from the first made it difficult to fully grasp what was happening. It was engaging enough, although since the whole premise of both movies largely consists of not really showing anything, it's mostly just about people going crazy in the woods. Because of better recording technology, the makers apparently didn't feel the need to put in a bunch of shaky camera work this time. And I understand the ending is supposed to create a closed time loop, which seems more like a totally different genre of movie.

We Need to Talk About Kevin – My wife has sought out really disturbing movies, and this is among them. Starring Tilda Swinton and John C. Reilly, it's the story of a mother's relationship with her son, who seemed cruel even from infancy, and eventually grew into a total psychopath. There's the question of whether talking about Kevin, as hinted in the title, would have actually done any good, and the film leaves this ambiguous. While Swinton is concerned about her son, it leads to her reacting in extreme ways that could easily have done further damage, even breaking his arm when lashing out physically during his childhood. He also outright states when he's older that he probably gets his cold stubbornness from her. And since Kevin treats his mom differently from anyone else, even his dad, they assume she's overreacting. The film is a bit choppy in style, the frame story being that it's Swinton's character looking back on the events of Kevin's life as she goes to visit him in prison, so it's sometimes difficult to tell exactly what happened in a given scene. It also means there's a lot left out, since Kevin is almost sixteen when he's incarcerated, although the general sense given is that the scenes we see are representative of how he always acted around his family.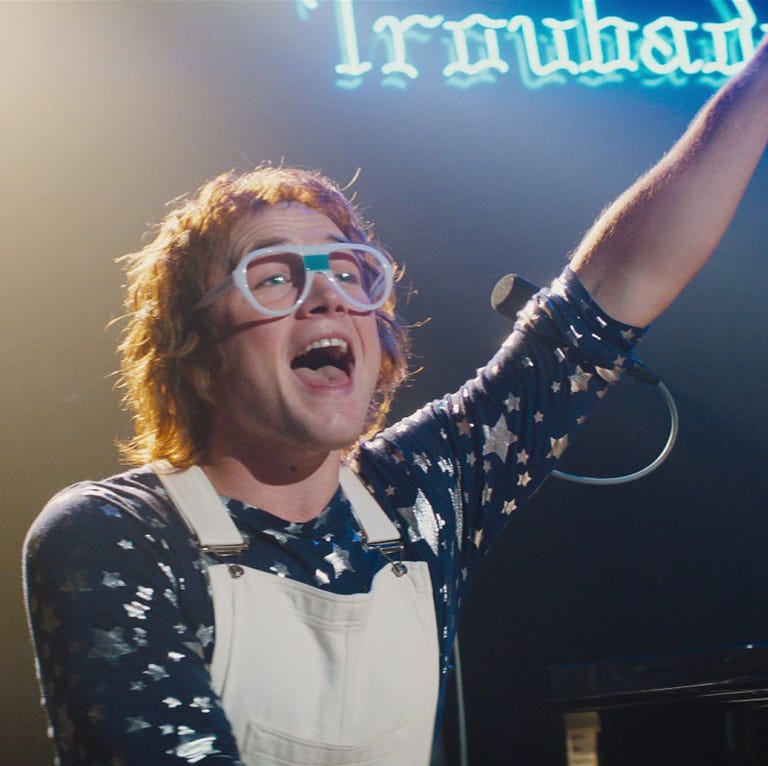 Rocketman – I had expected more of a straight biopic of Elton John, with some things changed to streamline them or make them more dramatic, as is typical of such films. It's really more of a musical based on Elton's life using his songs to describe his feelings and what's going on, which means they aren't always songs that even existed in the time period displayed. Many of them are used in music-video-style fantasy sequences. It's framed by Elton going into rehab (which happened in 1990, although the events surrounding it really occurred some years earlier), and explaining the roots of his problems. It was mostly presented from Elton's own point of view, freely acknowledging his addiction but presenting them largely as resulting from a lack of love and support, first from his family and then from relationships, the latter particularly that with his first boyfriend, John Reid, who was also his manager, although his marriage to Renate Blauel was also shown. His business partnership and platonic relationship with Bernie Taupin is treated quite positively, however. According to the Wikipedia page on the film, people who knew Elton's dad have objected to his portrayal as cold and distant with his family (well, his first family, anyway). Of course, from an American standpoint, pretty much every English father is cold and distant. The page also details some of the changes from real life, one that's fairly notable is that his stage surname is shown in the film as being from John Lennon, while it was actually in honor of Long John Baldry, lead singer of the band Bluesology in which Elton (well, Reginald Dwight) played keyboards and Elton Dean saxophone. Baldry was a successful blues musician for a long time, and from what I've read is "sugar bear" in "Someone Saved My Life Tonight." He was also the voice of Dr. Robotnik in The Adventures of Sonic the Hedgehog. Also not shown in the movie is the woman from that song, Linda Hannon. Incidentally, we have tickets to see Elton on his Farewell Tour, and I hope he doesn't have to cancel due to the pandemic.