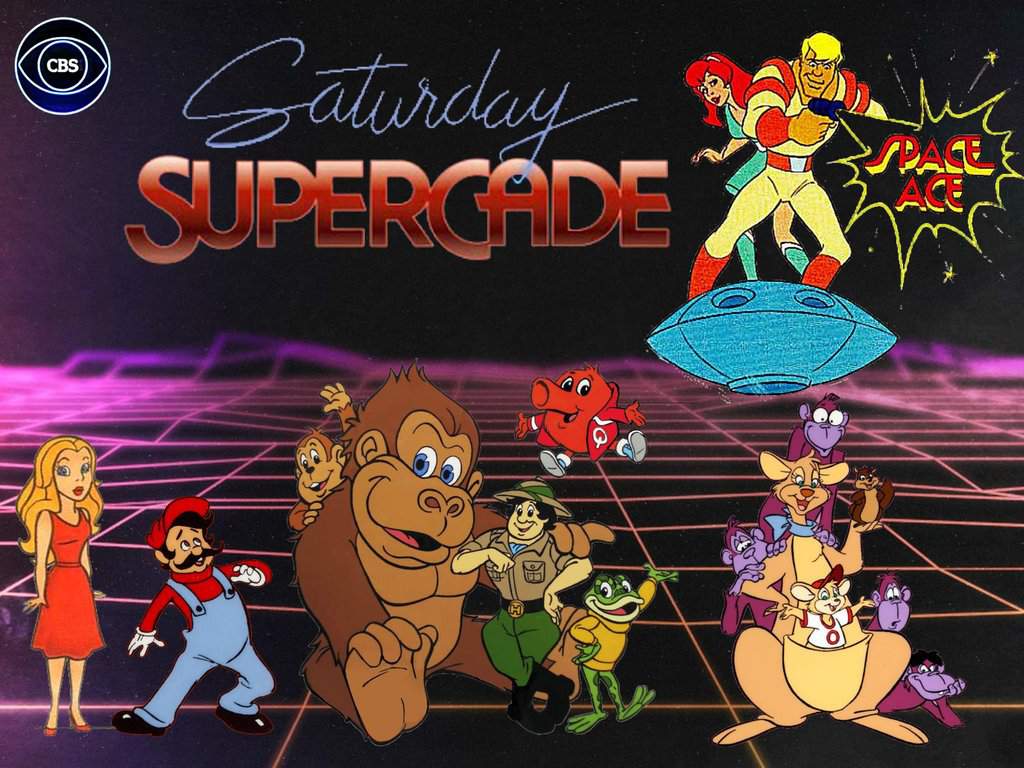 We all know about Captain Lou Albano on the Super Mario Bros. Super Show, and I've written about pretty much every episode. I was aware, however, that there had been a cartoon with Mario that I never watched, a Donkey Kong one, part of the Ruby-Spears Saturday Supercade show that ran from 1983 through 19840.


It's made up of several segments based on games, including both Donkey Kong and Donkey Kong Jr., as well as Frogger, Q*bert, Pitfall, Space Ace, and Kangaroo. Those first few are still pretty famous, but I don't think I even knew the last two WERE games. And I believe Pitfall was developed for the Atari 2600, and was never an arcade game. I've watched the DK and DK Jr. ones that I could find on YouTube, which isn't all of them. I've seen a few of the other cartoons as well, but I think I'll save those for another post. The voice of Mario is Peter Cullen, perhaps best known as Optimus Prime, and he doesn't seem to be trying to do an Italian accent. I believe he was the first to voice an animated Mario, but not the first to portray the character, as Harris Shore played him in commercials for the first two DK games.


On the show, the big ape is Soupy Sales, which must be why he told kids to send in all their parents' bananas. No, seriously, he doesn't say a whole lot, other than his name and occasional short phrases. While what back story the game had identified Mario as a carpenter rescuing his girlfriend Pauline. I've read that Pauline was retconned to be Mario's niece in the cartoon, but I don't think this was mentioned in any of the episodes I saw, so I'm not sure of the source for this.


Mario and Pauline work for a circus, the latter as the animal trainer. DK is the star attraction for the show until he decides to go on the lam, with the two others chasing him from place to place.


Although Mario and DK are opponents of a sort, neither one is the villain of the piece. Instead, there are usually several criminals, often more or less interchangeable but never the same characters from one episode to another, who trick the ape into helping them, only to have him eventually realize what's going on and join with Mario and Pauline to stop the crooks. Then he escapes again, often in a ridiculous way.


And yes, he does sometimes throw barrels and climb buildings. Bananas are pretty prevalent as well.


Really, Mario's obsession with catching the primate is pretty over-the-top, verging on Wile E. Coyote territory; and he sometimes takes advantage of DK's general good nature and his crush on Pauline. The two circus workers also employ a lot of disguises. Maybe it's just that recapturing an animal to make them do tricks seems a more sinister motive now than it might have been considered back in the early eighties.


Some of the weirder plots included DK getting engaged to a nearsighted Southern woman who owns a banana plantation, and the ape playing the drums for a punk band.


He also rides a rhinoceros in one episode, possibly predicting Rambi over a decade later.


Most interestingly to me is that there's one in which Stanley the Bugman, the hero of Donkey Kong 3, makes an appearance. Called "Greenhouse Gorilla," the plot has a thief convincing DK to help him steal Stanley's carnivorous plant Herman, and Stanley joining Mario and Pauline to chase the gorilla. It's odd that Stanley is drawn as tiny, although it's also worth noting that Mario is taller here than he's depicted in most later media.

The Donkey Kong Junior cartoon is directly related, as it has Junior trying to find the whereabouts of his father after he ran away from the circus, with the young ape accompanied by a teenage biker called Bones Bailey.


The two of them stumble into situations where they have to help kids and/or thwart crooks. I suspect Junior's characterization owes something to one of the most hated cartoon characters of the era, Scrappy-Doo. He's not as annoying, but he can speak plain English unlike his older relative, determined despite being small, and has the catchphrase "monkey muscle" instead of "puppy power." (But then, Junior's son's catchphrase, "banana slammer," isn't even alliterative.) He's voiced by Frank Welker, who was Fred on Scooby-Doo, but never Scrappy. And Bones has quite a bit in common with Shaggy, although he's a fifties rather than a sixties teen stereotype. There was even an episode with a fake ghost being used to perpetrate a crime.


Although I haven't seen every episode, I don't think Mario ever showed up in this cartoon, despite being in the game. I don't believe the music from either game was used, either.