In the past three years, I'd gotten into the habit of rereading the main Oz book of focus before OzCon, which was canceled this year. I still intended to read Glinda of Oz, but I'd been putting it off because I had other stuff to read, including other Oz stuff. They're doing a virtual one on Saturday, though, and the book is short, so I read it this past weekend. This was L. Frank Baum's last book, and like Magic, it doesn't have as much wandering around Oz and visiting places that don't advance the plot as many of the previous volumes (or later ones by other authors, for that matter). There are brief conflicts in the spiders' territory and the Great Gillikin Forest, and an uneventful but charming encounter with Mist Fairies, but otherwise it mostly takes place on Flathead Mountain and the Isle of the Skeezers.


These places are all in the Gillikin Country, considered the wildest and least explored part of Oz, which was featured heavily in Baum's last three Oz books, but before that the last significant visit there was in Land. And unlike Magic, but like the two previous books, Glinda takes place entirely within the borders of Oz.

In the story, Dorothy reads in Glinda's Great Book of Records that there's an impending war between the Flatheads and Skeezers, and while Glinda advises Ozma to ignore it, she decides it's her business to prevent the war, as both peoples are in the Land of Oz that she rules. Never mind that she'd never heard of them before, and only a few people there have heard of her.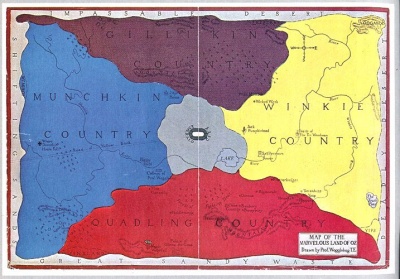 Baum does utilize the existing map of Oz in his own narrative, with the characters pointing out that the Skeezers are mentioned on it, but their lake isn't shown. Anyway, Ozma and Dorothy visit both populations and hear skewed, incomplete versions of why they want to fight. I appreciate that Baum incorporates a bit of science fiction into the story with the Skeezers' island, which can be submerged underwater and release submarines with retractable tops. Ozma and Dorothy end up trapped inside, and Glinda forms a party of just about every significant character from previous books to try to rescue them. As in Lost Princess, Baum used so many characters here that most of them end up not really having anything to do, although Button-Bright, the Glass Cat, and Scraps get some time in the spotlight. The Patchwork Girl's advice ends up being useful despite coming across as silly at first, and it's really pretty close to what Jack Pumpkinhead had suggested earlier. Meanwhile, a young Skeezer named Ervic uses reverse psychology to convince a Yookoohoo named Reera the Red to disenchant the Three Adepts, whom Queen Coo-ee-oh had transformed into fish.


It's interesting that Ozma and Glinda automatically trust the Adepts, although Glinda does do some research on them before leaving her palace.


Another thing I never really understood was after Dorothy figures out that the magic syllables to control the island are from Coo-ee-oh's own name (people had lazy passwords long before computers), Ozma reasons that, if "coo" releases the boats, "oh" probably raises the island. What reason would she have for assuming that order? Ozma installs rulers who support her, although in Aurex's case the Skeezers are okay with the choice. The Flatheads side with the Adepts over their Supreme Dictator, but they don't seem to have any say in whether they might want a third party to lead them.
One interesting thing this book does is to make some attempt to delineate different sorts of magic, and explain that they each have their own strengths and weaknesses. Since the Wizard of Oz is said to have learned much of his magic from Glinda, it seems like there might not be that much difference between sorcery and wizardry. Besides, the Wizard started calling himself that pretty much arbitrarily before he had any powers. Still, if we look at what he does throughout the series, he does seem to develop his magic in ways different from Glinda's. The Supreme Dictator says that he became a sorcerer and his wife Rora a witch by stealing extra brains, and her being turned into a pig makes her unable to work magic, as it requires hands.


Coo-ee-oh identifies herself as the only Krumbic Witch in the world, but we never really find out what that means. She loses her magic when she's turned into a diamond swan, but she doesn't particularly care.


In Tin Woodman, Ozma thinks Mrs. Yoop might be the only remaining Yookoohoo in Oz, but Reera keeps a low enough profile that it makes sense she'd be unknown. Yookoohoos specialize in transformations, and Reera apparently appeared as a skeleton with glowing eyes in Baum's handwritten manuscript before that was deemed too scary. I guess whoever pointed this out didn't notice the "pickled toads and snails and lizards, and a shelf of books that were written in blood" in Coo-ee-oh's workshop. It's strange that Dorothy wears the Magic Belt but never uses it, although it does protect her from the spiders. At the beginning of the story, Glinda mentions that the Skeezers' own magic blocks her efforts to obtain information on them, and it's possible this weakens the Belt as well, but it's not like we're ever told this.

The introduction to the book mentions that Baum "left some unfinished notes about the Princess Ozma and Dorothy and the Oz people," but as far as I know, there's no truth to this. Instead, it looks to be promoting the next book, Royal Book, which was originally credited to Baum with Ruth Plumly Thompson expanding upon it, but was really entirely written by Thompson and doesn't read at all like Baum. I don't know if I would have fallen for it if I'd been a kid in 1921, though. I'm wondering if there are any other Oz-related books I should reread in the near future. I've been thinking of revisiting Thompson's The Wish Express after some discussion of that volume on Facebook, and maybe Ozoplaning as well. I'm not sure if future OzCons will go on with the Thompson books as main themes, especially as some of them have already been secondary features on their other-multiples-of-tenth anniversaries; but I'll probably continue to read each one on its centennial.