The Conjuring – A haunted house movie featuring a fictionalized portrayal of real-life paranormal investigators Ed and Lorraine Warren (by which I mean they were real people, not necessarily that the paranormal is real). There wasn't that much about it that stood out for me, aside from the dog dying really early on. It must have worked for a lot of people, though, as there's now a franchise.

Big Trouble in Little China – John Carpenter's rather goofy martial arts film stars Kurt Russell as Jack Burton, a truck driver who gets caught up in a strange plot in San Francisco's Chinatown. An ancient sorcerer called Lo Pan was cursed with incorporeality by the first Sovereign Emperor of China, and has to marry a green-eyed girl in order to gain a permanent body. He finds two, the fiancee of Jack's best friend and a lawyer played by Kim Cattrall, who becomes Jack's love interest. There's a lot of fighting, as well as elemental magicians in giant straw hats and an ancient sorcerer who drives a tour bus. While Jack is the main viewpoint character and does his fair share of fighting, he's also in way over his head, and often compensates by joking about everything that happens. Beth said it was similar to They Live, and they do both have a tough smartass accidentally getting involved in a battle against supernatural evil.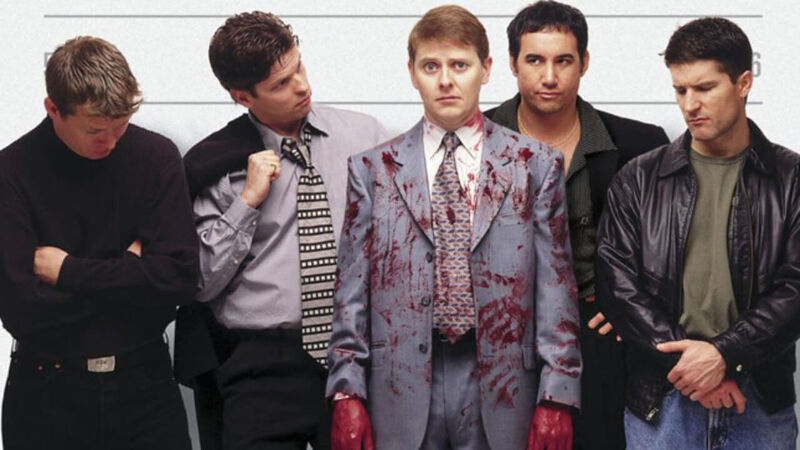 The Wrong Guy – Beth has been wanting to show me this for years, but I think we couldn't find it or something. Dave Foley co-wrote and stars as Nelson Hibbert, a rather dimwitted businessman who just happens to enter his boss's office to tell him off for denying him a promotion right after he's been murdered. Assuming this makes him a suspect, he goes on the run. The thing is, the police aren't even interested in him, as the murder was caught on the security camera and the killer looks nothing like him. He does, however, have an uncanny knack for showing up wherever the real murderer does. Along the way, he encounters a conspiracy theorist who thinks nobody shot JFK, utterly fails a few times at coming up with a fake name, falls in love with Jennifer Tilly's character, and tries to save her father's bank from, in a strange reversal of the usual trope, a rich farmer who wants to foreclose on it. Kevin McDonald makes a brief appearance as a motel clerk, and David Anthony Higgins from Ellen and Malcolm in the Middle plays a cop who's more interested in getting stuff for free than solving the case. Co-writer Jay Kogen is a name I recognize from early Simpsons episodes, often partnered with Wallace Wolodarsky, who is referenced at one point in the movie. By the way, there apparently really is a Moby-Dick musical, but it didn't show up until more than twenty years later.