I wanted to say a bit about the manufactured controversy over Dr. Seuss, which is obviously being totally misrepresented by conservatives. It's the Seuss estate that decided to stop publishing six particular books, so it isn't some kind of government censorship. And people are responding by buying the books that are still going to be published, giving money to the people they're mad at. Some of them are also misspelling his name as "Suess."


I think it might be valid to discuss whether or not the racist illustrations outweigh the value of the books, but as a white guy, I feel my opinion isn't particularly important. Sure, the material should be preserved for research purposes, but it's not like anyone is destroying old copies. Several websites, including this one, have posted at least some of the offending images. The thing I found interesting is that people tend to be unfamiliar with the particular books that are going out of print. That's fine, as they aren't among Seuss's more popular titles, but I know I read all of them except The Cat's Quizzer, when I was a kid, most of them multiple times. I guess I've always had the habit of going for the deep cuts, but it's not like I would have realized they were obscure when I was a kid. They were on the library shelves with everything else. I haven't read everything by Seuss, but I've read a lot that doesn't get discussed much. The five I know from the banned list have kind of a common theme, as they're all about kids coming up with weird ideas. And to Think That I Saw It on Mulberry Street, Seuss's first children's book, is, somewhat ironically considering the theme, pretty tame compared to the others. McElligot's Pool brings back the same protagonist, Marco, this time imagining all the strange fish that could potentially find their way to the local pond.


If I Ran the Zoo, not surprisingly, has a kid coming up with exotic animals.


It's also sometimes credited with introducing the word "nerd," although there's some debate on that point.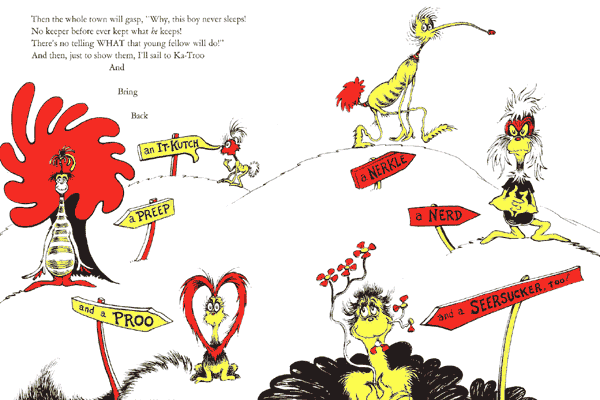 In Scrambled Eggs Super!, Peter T. Hooper tells a story of scrambling eggs laid by strange birds. On Beyond Zebra! is about a kid inventing new alphabet letters, but the the examples he gives of words spelled with these letters are all animals.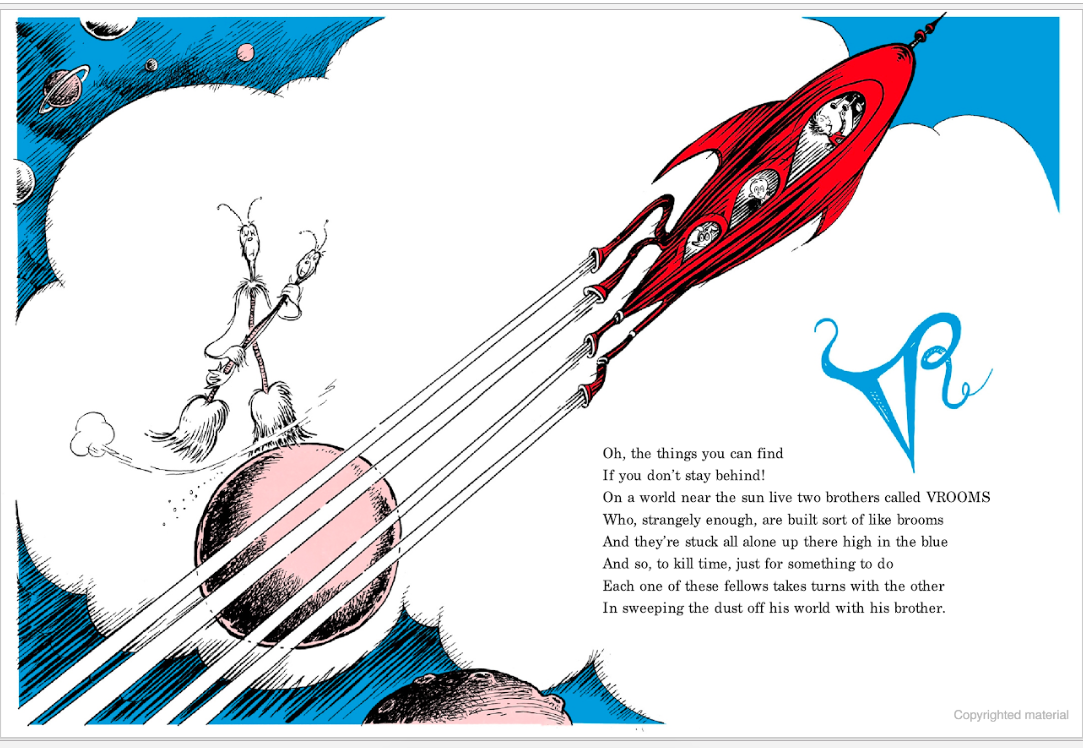 When I tweeted about these books, the Hungry Reader called them Seuss's Monster Manuals, which is appropriate. I've always had a fondness for books like that. I remember a book I liked as a kid called Fantanimals, by Keith Havens, which had pictures, poems, and other information on imaginary creatures.


In high school, I loved Jorge Luis Borges' The Book of Imaginary Beings, even though that one lacked illustrations. I've even considered buying an actual Dungeons & Dragons Monster Manual despite never having played the game, although they are pretty expensive and most of that information is probably online now. So, while I haven't read any of those Seuss books in probably over thirty years, I do have fond memories of them. I have to wonder if there's any way they can edit the books to leave out the racism. Even if they have to leave out entire pages, it's not like that would affect the story. I know the Books of Wonder reprints of the Oz books left out some racist pictures and text from The Patchwork Girl of Oz and Rinkitink in Oz, and it's not like you're really missing anything by not seeing them. And if you want to see the unaltered versions, they're not hard to find. Oz fandom has also made me experience the frustration of having completist tendencies and some of the books being out of print. I've also seen criticism of other Seuss books that aren't being discontinued, like the Cat in the Hat being based on minstrel show imagery (as was Mickey Mouse) and the creatures in One Fish, Two Fish, Red Fish, Blue Fish being seemingly intelligent yet belonging to kids who keep them to perform certain functions. This Cracked article about the latter is largely tongue-in-cheek, but I can still see how Mike, a big, monkey-like guy who does manual labor, could be seen as a racial caricature.


I can see the consternation about things I loved as a kid no longer being readily available, but I also feel somewhat ashamed that so much racist stuff was still considered acceptable for children when I was one. I guess it's largely white privilege that I didn't think anything of the imagery, but I also don't think they affected my views on actual people. That's not really the sort of thing people tend to notice about themselves, though. Incidentally, my aunt once drew a picture for me that included the Long-Legger Kwong from Scrambled Eggs Super!, and I'm not sure what happened to it.