I have a few video games I either want to start playing or get back into, but my game-playing time these days is taken up entirely by checking on my Animal Crossing: New Horizons island. It's a pretty relaxing game, except for how the tools are always breaking at inopportune times. While it's easy to make more, it's still frustrating. Anyway, the game's equivalent of Easter is Bunny Day, which I believe was the first event that took place after the game's release, although I didn't have it back then. There's a week or so where eggs are hidden everywhere, and I understand that they were so common last year that it was too difficult to find anything else, so they toned it down a bit this time. It also looks like the egg-finding period was shortened from twelve days to eight. On the first day, Zipper T. Bunny shows up to begin the festivities.


As his name hints, he has a zipper on his back, yet he insists he's not wearing a costume.


There's nothing strange about an anthropomorphic rabbit in this world; there are two as regular residents on my island, Chrissy and Cole. The former is a peppy pink polka-dotted girl who aspires to be a pop star, and has an older sister named Francine, although I haven't encountered her as of yet. Cole is a lazy sort who talks about bugs whispering recipes to him.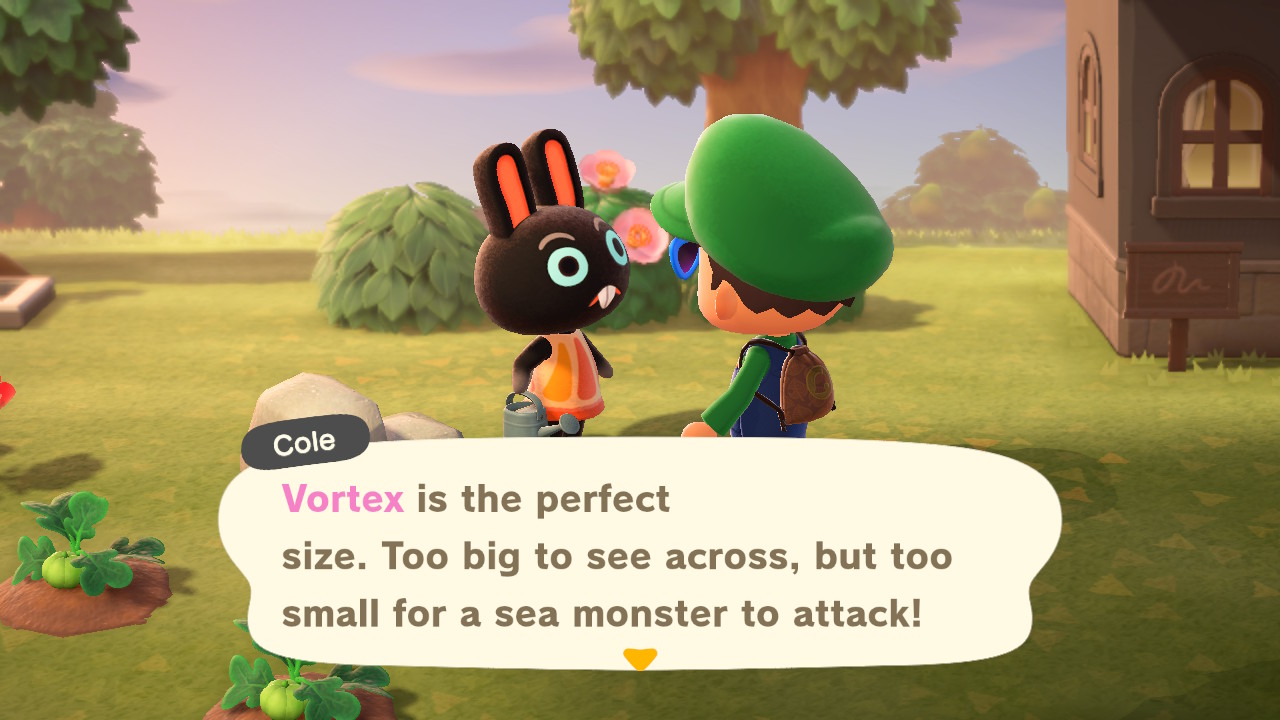 There are apparently contradictory references as to whether or not Zipper is wearing a suit, so it remains a mystery. He's very active and enthusiastic when he notices someone, prone to reciting verses, but sometimes reveals himself to actually be tired and bored of his job. I guess he's kind of a Krusty the Clown type in that respect. There are six kinds of eggs, each found in a different sort of material: earth, water, stone, wood, leaf, and air. If you collect one of each, you can trade them in to Zipper for a recipe. And if you craft all of the Bunny items, recipes for which can be found during the same period as the eggs, plus one extra item, that gets you another recipe. I found the air eggs, which sometimes floated by on balloons, to be the hardest to procure. When Zipper shows up on Bunny Day, though, you can trade egg types that you have in excess for others. So I was able to do all the crafting, even though I spent a good portion of the day driving.

Last month, there were a bunch of Mario-related items you could order, and I bought most of them (with in-game currency, not real money). In addition to things like blocks and power-ups, there were clothing sets for Mario, Luigi, Wario, and Peach. I'm not sure why Toad and Bowser weren't represented, but maybe they are elsewhere. In addition to the two rabbits and the others I've already mentioned, the other standard residents are a food-loving strawberry-horned rhinoceros named Merengue and a smug German-speaking yeti called Hans. I know I can recruit a few more, but so far I've been concentrating on other things. More recently, there have been cherry blossoms all over the place, perhaps reflecting the early blooming this year in Japan.


What's strange is that a bunch of trees that normally don't bear fruit suddenly become cherry trees for this purpose.