We watched a few Christmas-related things this month, and I wasn't necessarily planning to post about them all at once, but that's kind of how it worked out. There were some things for which I don't necessarily have a full review, but I still want to mention. Beth likes to watch old variety show episodes, so we saw Donny and Marie, the Captain and Tennille, and Liberace. These are pretty fascinating because you don't really see that much like them anymore. They would sing songs, do skits, and have guest stars, and while I'm sure there was a reason they chose the particular guests, they don't actually mention this on the show. It seems like now, when celebrities make the media rounds, it's because they have something specific to promote. The Captain and Tennille had Don Knotts and Tom Bosley as guests. Anyway, here are thoughts on some other stuff we watched:

John Denver and the Muppets: A Christmas Together – This is the special that originated the version of "The Twelve Days of Christmas" where Fozzie keeps missing his line, and Miss Piggy sings "BA DUM BUM BUM" after the part about the five gold rings. In fact, that's the beginning of the special. What I particularly noticed is how subdued this is. Sure, there were still the usual puns and backstage arguments commonly associated with the Muppets, but the songs tended to be slow and mellow, which I suppose is to be expected from Denver. There's a fair amount of Lew Zealand in this one, and he's overly weird even for a Muppet.

March of the Wooden Soldiers – Originally released as Babes in Toyland but often called by this alternate title, perhaps to distinguish it from other film adaptations of Babes. Of course, this was the first one, starring Laurel and Hardy. We watched it on YouTube, so it wasn't the best quality. The comic duo is worked into the story as Stannie Dum and Ollie Dee, boarders at Mother Peep's shoe who work at the local toy factory. I've been thinking a bit recently about movies that focus on the comic relief characters, and this is certainly an example. Laurel and Hardy are the stars, the ones we see events through, and ultimately the heroes who save the day; but they're not central to the story, which is more about Barnaby's devious attempts to marry Bo Peep, threatening to foreclose on the marriage on the shoe if she doesn't. She's in love with Tom-Tom the Piper's Son, who's dashing and sings most of the songs, but he doesn't actually do a whole lot. Ollie and Stan are fired from their jobs when the Toymaker finds out that Stan misinterpreted an order from Santa Claus for 600 wooden soldiers one foot high, instead producing one hundred soldiers six feet high. In true Chekhov's Gun fashion, this does pay off later on, as does Stan's skill at playing Peewee, a game involving hitting blocks with a stick. The Boogeymen, who live in a wild country outside Toyland, are also built up before they actually appear. The marriage is prevented when Stan dresses up as Bo Peep and Ollie tears up the mortgage. So Barnaby frames Tom by kidnapping one of the Three Little Pigs and planting sausages at Tom's house. When Ollie finds out that the sausages are actually beef, he and Stan rescue the pig and chase Barnaby to Boogeyland, where he leads the Boogeymen in an attack on Toyland. but Stan and Ollie repel them with darts and the giant soldiers. It ends with one last slapstick bit where Stan accidentally flips a toy cannon around, firing a bunch of darts into Ollie's butt. Worthy of mention is that, while this is not a Disney film, Disney did give permission to use their versions of the Three Little Pigs (although they have different names) and the music to "Who's Afraid of the Big Bad Wolf?", and there's a monkey dressed as Mickey Mouse.

The Nutcracker (1993) – This is the one where Macaulay Culkin stars as the Nutcracker and his human counterpart, Drosselmeyer's nephew. He's in the background for most of it, but I guess that's pretty much how it has to work in a ballet, because the focus is on the other dancers. Beth was somewhat incredulous at the flying bed, which is apparently part of the George Ballanchine choreography. Susan Cooper, author of The Dark Is Rising, wrote the narration in between scenes. I saw a Bolshoi performance of the ballet at the the movies about a week ago, and it had a more significant part for the Prince, and a flying boat instead of the bed. I read the original Nutcracker story some years ago, but it wasn't the translation Jay Davis, who's written a bunch of reviews of different adaptations, recommends. I'll have to try to get that one from the library next year.

Jingle Bell Rocks! – This 2013 documentary interviews some collectors of weird, obscure Christmas music. It's not all intentionally funny stuff, although some is and Dr. Demento appears. One song that receives a lot of attention is "The Little Boy That Santa Claus Forgot," as performed by Nat King Cole. Also covered are some songs by the Free Design, a sixties number about Santa arriving on a nuclear missile, El Vez's "Santa Claus Is Sometimes Brown" (a play on Elvis' "Santa Claus Is Back in Town"), and Clarence Carter's "Back Door Santa." The latter provided the hook for Run DMC's "Christmas in Hollis," also a significant focus, even though it's hardly obscure. John Waters talks about his collection of strange Christmas songs, particularly "Fat Daddy Claus" by a local Baltimore DJ, and "Santa Claus Is a Black Man." And the Flaming Lips talk about creating a Christmas film that Wayne Coyne's mom thought she saw when he was a kid, but was probably misremembering. Really, the subject is so broad that I don't know that the film does it full justice, but it's definitely entertaining.

Santa Claus: The Movie – I remember seeing this as a kid, and I actually remembered a fair amount about it, if not all in the right order. It was a commercial flop, and Beth said that using that title was really making it seem authoritative. It's probably a reference to Superman: The Movie, on which producer Ilya Salkind also worked. Well, they're both do-gooders who travel through the air, wear red, and have a place at the North Pole.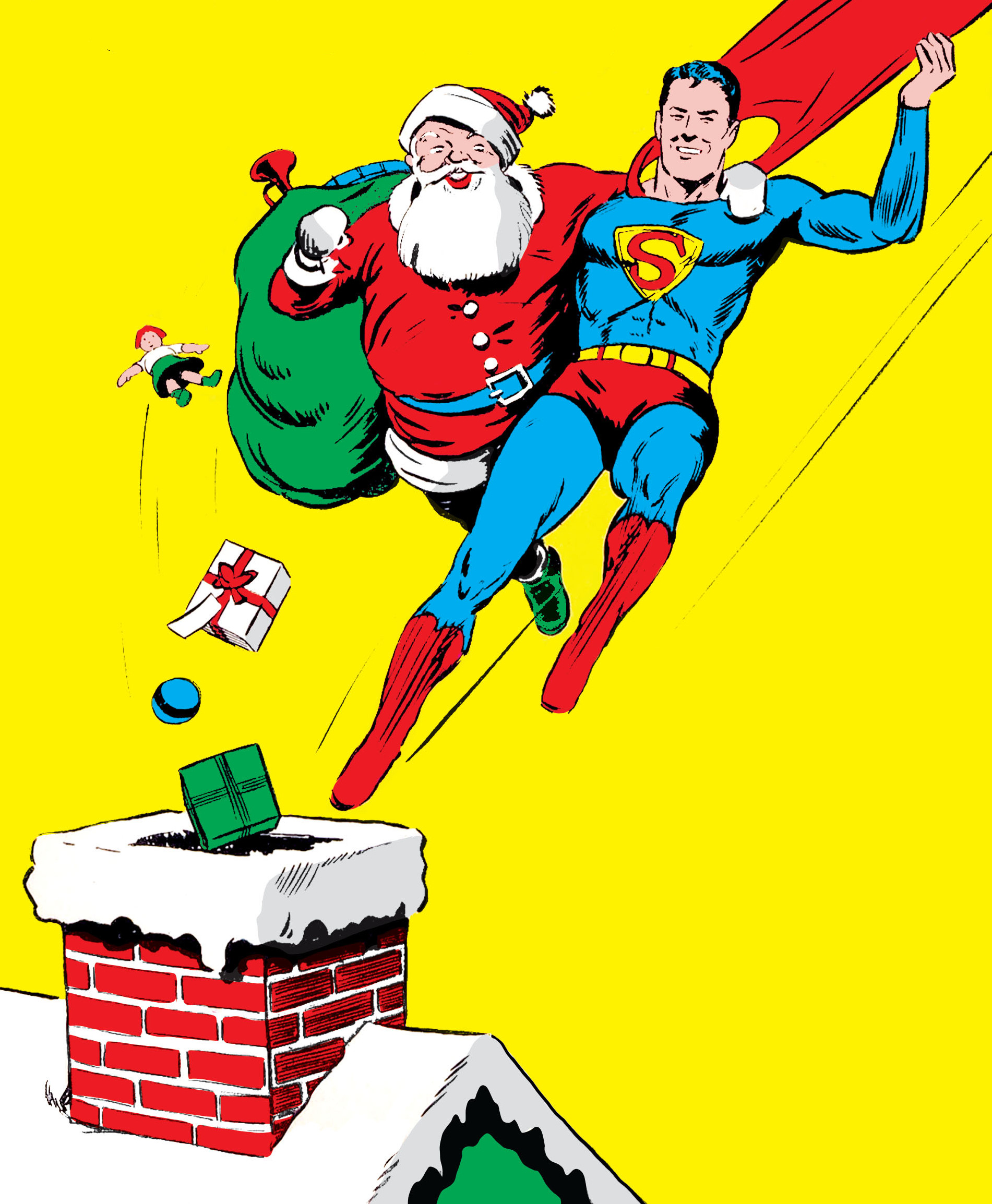 Santa Claus is sort of two movies, the first telling the origins of Santa and his experience over the centuries, and the second with the actual conflict. The first one is the more successful, a little slow, but with a good sense of whimsy and a cozy depiction of the workshop.


The toymaker Claus and his wife are caught out in the snow with their reindeer-drawn sled and almost freeze to death, only to be rescued by elves who deem that the answer to their prophecy of a person who would deliver all the toys they make. In the second part, set in the modern day for when the movie was made, an elf named Patch tries to automate the workshop. He's played by Dudley Moore, and has a recurring gag of using "elf" in place of "self." When the toys he makes start falling apart, he leaves the Pole in embarrassment, and teams up with a disgraced toy executive played in a hammy manner by John Lithgow.


Patch's plan is to come up with something that will impress Santa, candy containing some of the stardust that makes the reindeer fly, thereby allowing people to float in the air. Meanwhile, Santa befriends a homeless boy and a rich but lonely girl in New York City, the latter of whom just happens to be the executive's niece. When it turns out that the flight formula will explode if it overheats, Santa and the kids have a chase scene to stop Patch from blowing himself up. The executive, meanwhile, tries to make an escape from the law by eating the magic candy, which causes him to float off into space, a rather Roald Dahl sort of punishment. This part seems a little rushed, not really bad but kind of going through the motions.

Olive, the Other Reindeer – This 1999 special, produced by Matt Groening, was based on a picture book by J. Otto Seibold and Vivian Walsh. Seibold did some artwork for They Might Be Giants, including the "Istanbul" video, and John Linnell sang a song for Olive, credited as Johnny Hart in a likely reference to Johnny Marks, who wrote "Rudolph the Red-Nosed Reindeer." This song isn't in the special, even though several other songs are. I did look through the book before, but that was years ago. The special has the same basic story, that of a dog named Olive who mishears "all of the other reindeer" and thinks she might be a reindeer, so she travels to the North Pole and helps Santa out on his annual trip with her canine abilities. The art style is based on Seibold's, which includes sometimes showing a character in profile with both eyes, like Picasso or Peppa Pig.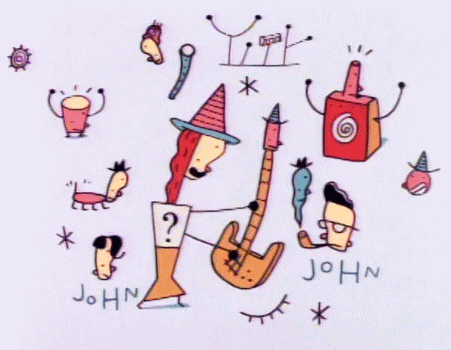 Drew Barrymore voices Olive, who here is accompanied by Martini, a penguin who sells counterfeit watches, and is voiced by the guy who would later play Ralph in The Sopranos. Dan Castellaneta provides the voice for the villain, a postman who wants Christmas to be canceled because he hates delivering the extra mail. The theme of misheard words continues with characters named Richard Stands and Round John Virgin, and Michael Stipe appears as Blitzen's cousin Schnitzel. This feature presents a strange world where people and animals have no problem talking to each other, nobody doubts Santa's existence, and the North Pole is accessible by bus. I'm reminded of how the only reason Frosty the Snowman can't just take a train to the North Pole is that he and the kids can't afford the ticket, not because it isn't feasible to build tracks over the Arctic Ocean. It somehow works, though. And there are a lot of absurd jokes and references, like Olive escaping from a mail truck with help from a file in a package from Deus Ex Machina, a sign a bus passes showing that it's going through Frostbite Falls from Rocky and Bullwinkle, a bar sign ordering that icicles have to be left at the door, Santa visiting Godzilla and Ultraman in Tokyo, and the Pope getting a Phillies cap for Christmas.


And Drew named her daughter Olive, possibly after this special.

The Small One – I don't think I'd seen this animated short before, but I think one of my siblings had a book version of it when we were kids. Originally shown with a reissue of Pinocchio in 1978, it was directed by Don Bluth, and you can definitely see his signature style in it. A boy, voiced by Sean Marshall, the kid who played Pete in Pete's Dragon, takes care of his father's donkey, Small One, who has gotten old and weak. The donkey's brays are provided by Clarence Nash, the original Donald Duck. The boy takes Small One to the marketplace, but no one is interested in buying, and most of the people just laugh at them. Practically everyone in this short is really nasty. The happy ending comes when Joseph buys Small One to take his pregnant wife to Bethlehem. It came out the year after Nestor the Long-Eared Christmas Donkey, which is also about the donkey who took Mary and Joseph to Bethlehem, so it must have been a popular idea around that time.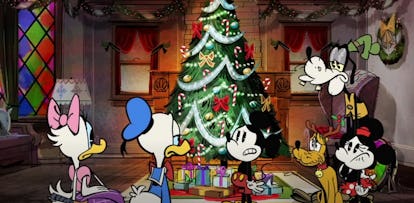 Duck the Halls: A MIckey Mouse Christmas Special – This is one of the newer Mickey shorts that I guess aren't really that new at this point, but I'm not that familiar with them. They have a zany animation style and a lot of obscure references to earlier cartoons.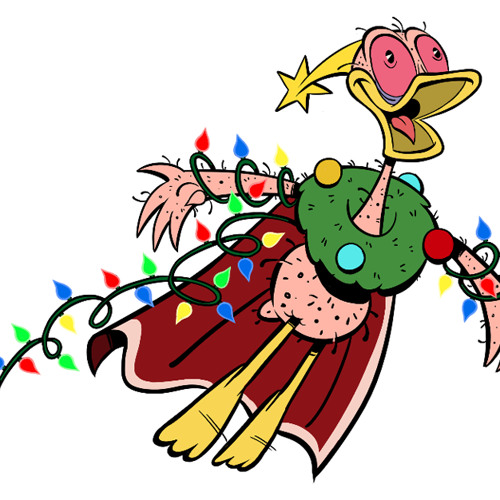 In this one, Donald has never experienced Christmas because he and the other ducks always migrate south for the winter. Yeah, I know there are a bunch of media with Donald celebrating Christmas, including the introduction of Scrooge McDuck, but I don't think these shorts are really concerned with continuity. Scrooge appears in this one, as do Ludwig von Drake and Gus Goose, who here sounds like Frank Nelson. There's also a rather disturbing Santa.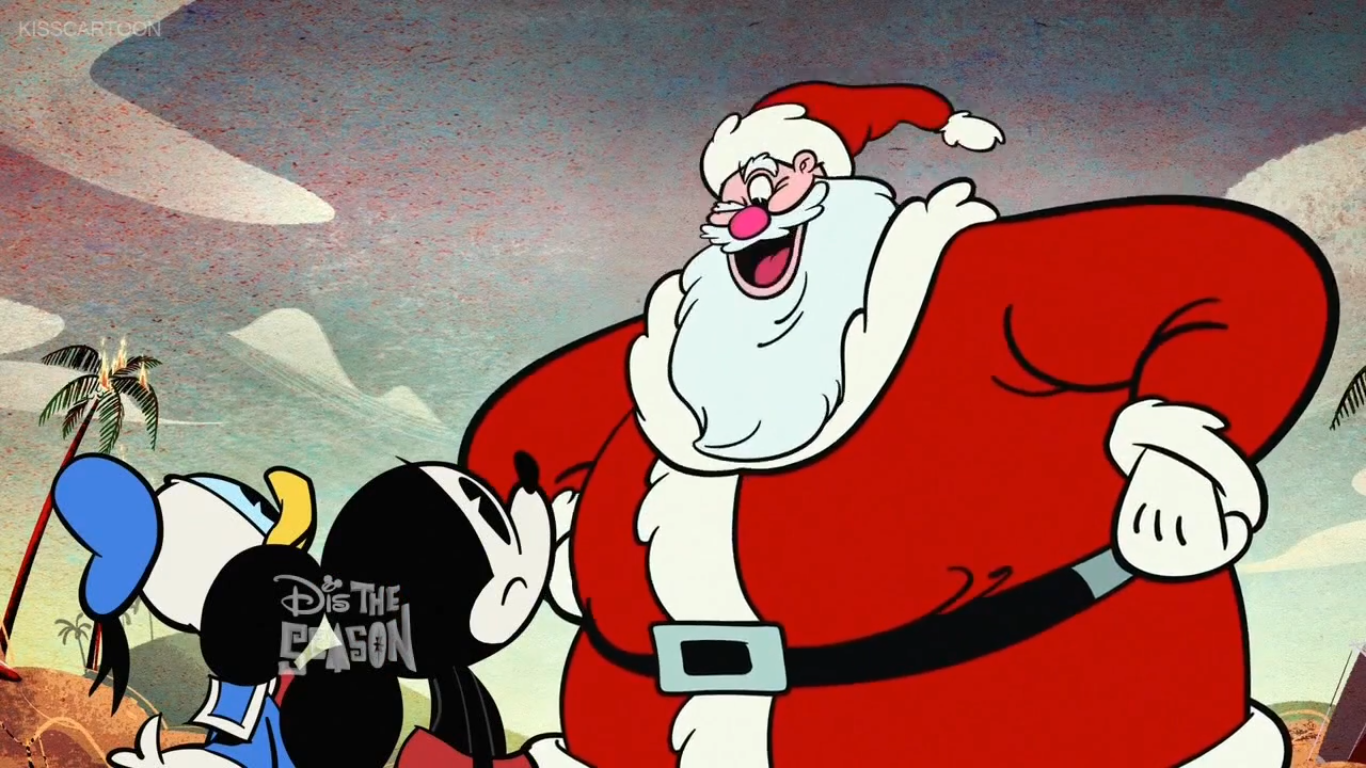 Honestly, I've been meaning to check out this series, but I say that about a lot of things.

Ziggy's Gift – This is a weird special from 1982, and I'll admit that I didn't pay a lot of attention to it. The Ziggy comic strip is one I remember reading as a kid, but when I think back on it now, I mostly remember the made-up punchlines they mentioned on The Simpsons and Seinfeld. I think it was absurd humor, but rather mundanely absurd, so it's no surprise that creator Tom Wilson (not the one who played Biff in Back to the Future) worked for American Greetings. Regardless, it's mostly just brief observations, so a half-hour special doesn't really work. What plot there is involves Ziggy getting a job as a bell-ringing Santa for a charity he doesn't realize is fake, and being hassled by an Irish cop and a crooked Santa who steals a bunch of stuff but eventually reforms. Ziggy never talks in the cartoon.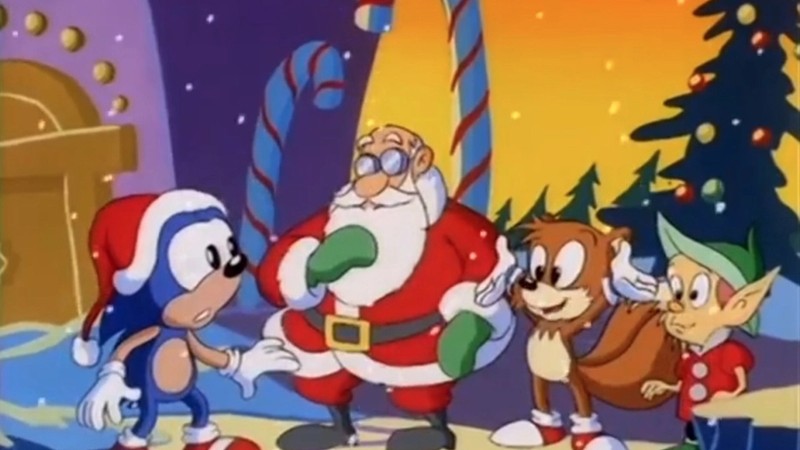 Sonic Christmas Blast – I used to watch Adventures of Sonic the Hedgehog when I was in high school, and I later saw most of the Saturday morning Sonic cartoon as well, but I hadn't previously seen this. I actually became aware of it because the lead-up to the latest Kevin Geeks Out show included a clip from it. It mostly fits in with the Adventures continuity, as Dr. Robotnik is voiced by Long John Baldry, his main henchmen are Scratch and Grounder, and the it has the wacky, nonsensical gags typical of that show. On the other hand, Princess Sally from the Saturday show is in it, except she doesn't have any lines and has the model from that show's pilot rather than the one they settled on.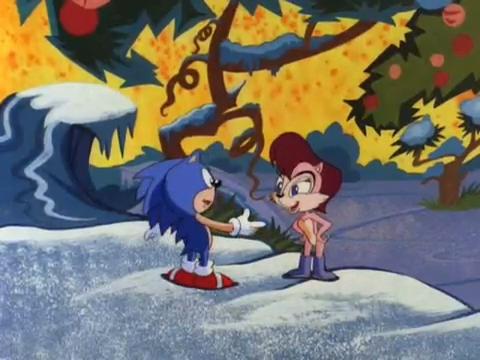 There's also an elf who's in several scenes, but doesn't talk and barely even moves. Most of the background characters are weird-looking humans instead of anthropomorphic animals, which wasn't that common for either cartoon show. Robotnik captures the real Santa and makes a robotic duplicate who claims he's retiring and Robotnik is taking his place.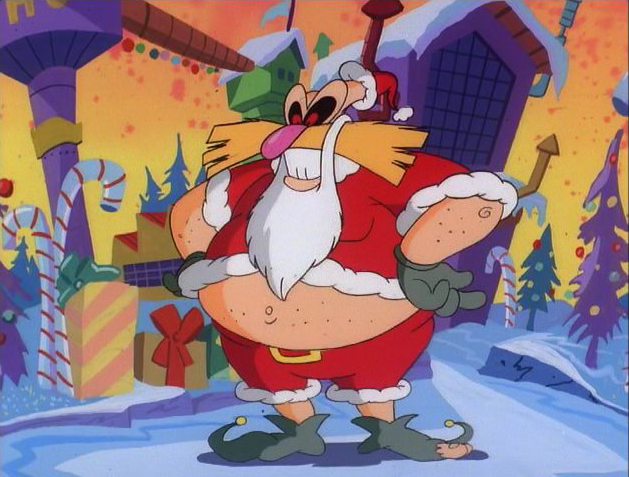 Robotnik Claus then insists that everybody give HIM presents, and he forces anyone who doesn't to work at his factory. Sonic and Tails save Santa, and the cave where he was imprisoned turns out to have a hieroglyph showing a way for the hedgehog to run even faster than usual, so he can get all the presents back and distribute them in hardly any time. For some reason, he has to snowboard and ride a bike on a narrow ledge in order to obtain this power. It ends with Santa naming Sonic as his replacement. While I won't say this was particularly good, it was kind of nostalgic to see these versions of the characters again.