WARNING! SPOILERS for all three films!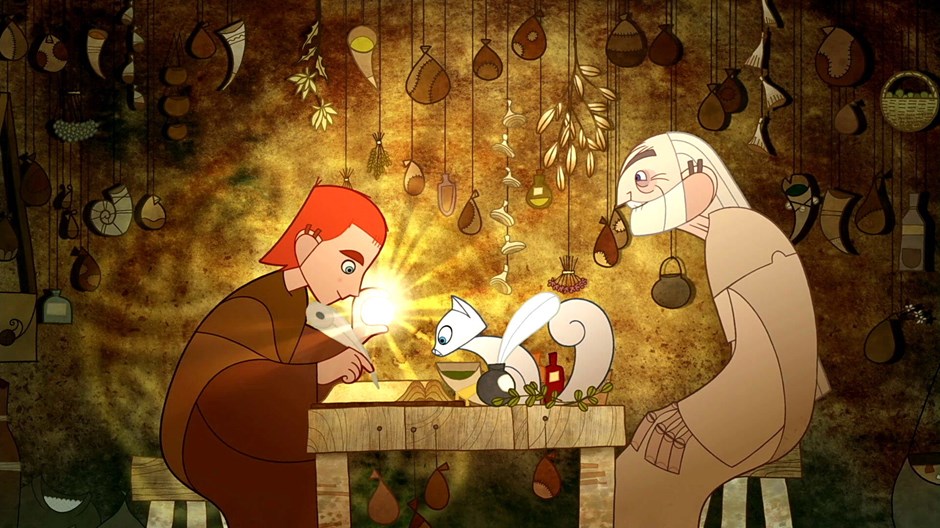 The Secret of Kells – I knew pretty much nothing about this 2009 French animated film. It takes place at a monastery in ninth century Ireland, where a curious boy named Brendan lives with his strict uncle, the abbot. Brother Aidan, a man known for illuminating manuscripts, comes to the abbey to work on the titular book, a collection of the Gospels. Brendan becomes fascinated with Aiden's work and helps him out, to his uncle's disapproval. He also explores the nearby woods and befriends a fairy named Aisling, who helps him to defeat the ancient god Crom Cruach in order to take his eyeglass. And yes, that's probably the god Conan the Barbarian swears by, or at least his namesake. The animation style is interesting, very much modeled on manuscripts of the era, fairly minimal and a bit strange when it comes to shapes, but also colorful and distinctive.


There are some surreal bits, like the scene of Crom devouring himself.


Aisling's name means "dream," so not surprisingly, they're usually the bits with her in them.


They're not merely dreams, though, as they affect the more realistic parts of the story. The actual Book of Kells is now kept at Trinity College in Dublin.

Chinatown – You know, I think the only Roman Polanski films I've seen were this and Rosemary's Baby, and both involve rape. They both present the rape as a bad thing, of course, but it's disturbing in light of what we know about the guy. It's about a detective named Jake Gittes, played by Jack Nicholson, who takes a case to find out if Hollis Mulwray, chief engineer at the Los Angeles Department of Water and Power, is having an affair. He soon realizes he's been set up, but also that there's a much bigger scandal going on here, with Mulwray being murdered by his former partner because of his opposition to a project to dry up nearby land and buy it for cheap. It's loosely based on real events, and Mulwray's name comes from William Mulholland, who designed the aqueducts that brought water to LA. I only know who he was because Frank Black mentioned him in two songs, "Olé Mulholland" and "The St. Francis Dam Disaster." As it's a film noir tribute, Jake constantly discovers more wrinkles to the situation, is repeatedly lied to and threatened when people think he's getting too close, and has sex with Mrs. Mulwray for some reason. He eventually cracks the case, but the guy who masterminded the whole thing and raped and impregnated his daughter is able to get off scot-free because he's rich and powerful. An interesting side note is that a plot developed for a potential sequel involving automobile manufacturers buying up streetcars to eliminate them, also based on true events, eventually became the story of Who Framed Roger Rabbit.

Punch-Drunk Love – Another Paul Thomas Anderson film, this one stars Adam Sandler in a fairly straight role as Barry Egan, an awkward guy who runs a plumbing supply company, although he still has anger problems. That's largely because of his seven sisters who boss him around and pry into his life. Like other Anderson movies, it meanders a bit, switching between Barry's budding relationship with his sister's co-worker, his being scammed by a phone sex line, and his trying to take advantage of a deal to get frequent flyer miles by buying Healthy Choice products.