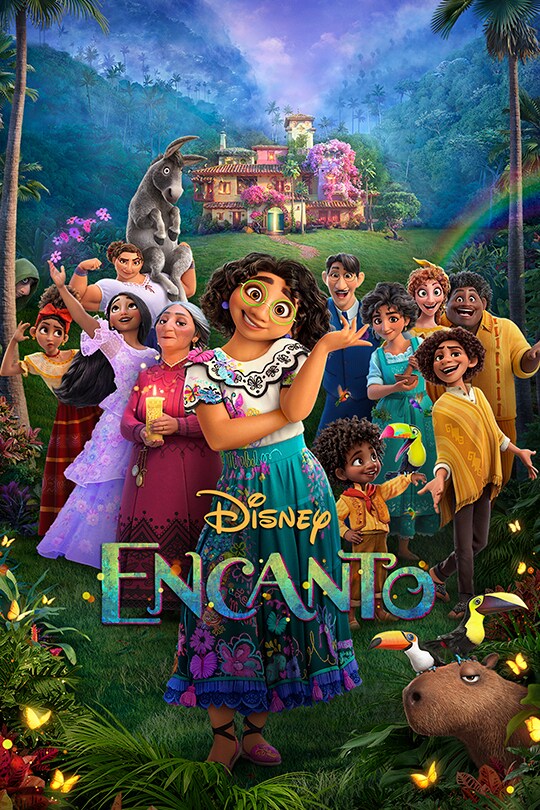 Encanto – Since Beth usually just wants to watch Halloween and horror stuff in October, I thought of the one Disney Animation Studios film we hadn't yet watched when November came along. This one seems to have been quite well-liked, and I enjoyed it as well. It's very colorful, too. Set in Colombia, it's about the Madrigals, a family with magical powers, the matriarch being someone who escaped the destruction of her village with the help of a magical candle. Her husband died during the flight, but she was led to a secluded and magical place where she could raise her children. That candle now grants magical abilities to each member of the family when they reach a certain age. Various powers include super strength, incredibly sensitive hearing (that one definitely has a downside), flower generation, weather control, healing through cooking, prediction of the future, shape-shifting, and communication with animals.


And they live in a cool house that has a life of its own, with rooms suited to each person's powers, which tend to be way bigger on the inside.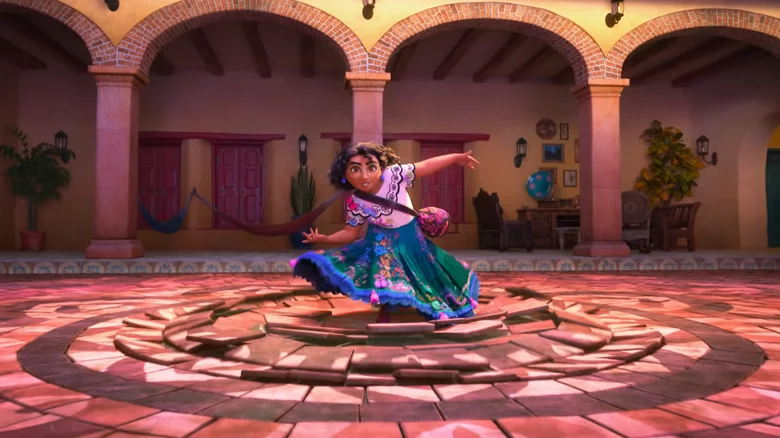 Mirabel, our protagonist, is the only one who wasn't granted a magical gift when she reached the typical age. She's voiced by Stefanie Beatriz, whom I know is on Brooklyn Nine-Nine, although I'm not too familiar with that show. When she sees signs that the house is falling apart, the others dismiss her concerns at first, and later start to blame her. She seeks help from her uncle Bruno, who disappeared when people blamed him for his predictions coming true, and the family barely even acknowledged him afterwards. He'd been secretly living in the house all along, however.


Bruno is voiced by John Leguizamo, who had previously been perhaps the weirdest possible casting for Luigi Mario. Mirabel finds out that the cracks have largely resulted from family members not being able to express themselves. Her sister Isabel, whom she resents for being favored and treated as perfect, is willing to marry someone she's not interested in for the sake of the family, and has felt she's only been able to create pretty flowers instead of other plants. And her super-strong sister Luisa feels the figurative weight of the world on her shoulders.


Those donkeys seem surprisingly calm.
Even her grandmother, who's obsessed with everything being perfect, feels she needs to do that to keep things working properly and fulfilling her role in the community. Although there were a lot of characters and not much time to develop every one that much, there's still a clear sense of Mirabel's relationships with many of them. It seems like Mirabel has every reason to be jealous, not just because she didn't receive a gift, but because she still lives in the nursery and is sometimes treated as a burden; but she seems to value her family more than anything, and has a great deal of empathy. One of her earliest scenes in the movie has her singing about how awesome her family is, and not talking about herself. Also, while the house interacts with everyone to some extent, Mirabel and her Abuela are the only ones who talk directly with it. She's also pretty adorable.


Lin-Manuel Miranda worked on the music for this movie, and the song "We Don't Talk About Bruno" is actually a madrigal, in fitting with the family name.


I do find it interesting that the men who married into the family also took the surname Madrigal; I don't know whether that's a Colombian thing or a sign of the family being unusually matriarchal.