Here's some stuff that I watched this weekend, all without Beth as she was away for a lot of the time, and not interested in them anyway. There are SPOILERS for all of it.

Guardians of Galaxy Volume 2 – I'm behind on the Marvel Cinematic Universe, and with the sheer number of movies and TV shows they're putting out, I'm not sure they WANT anyone to keep up. The Guardians have always kind of been their own thing, though, even though there are obviously elements that cross over. And it's generally been a little sillier than the others, which makes it even more noticeable how dark and sad this one is. Even the soundtrack is mostly depressing. It largely focuses on Rocket and his origins, how he was genetically modified by the High Evolutionary, a scientist who claims to be trying to create perfection, but who has absolutely no problem with harming and killing living beings in order to achieve this. I'm a little weird about misrepresentations of evolution in the media because I have to wonder if they affect anti-science positions. That's probably a stretch, but when I see fundamentalist Christians claiming dinosaurs lived alongside humans, I can't help but suspect these beliefs are based at least partially on fantastic fiction. But I guess that's beside the point. There are some nods to the early Rocket stories, which had a supporting cast of genetically engineered animals, including his love interest Lylla the Otter and sidekick Wal Rus. They both appear in flashbacks, but the walrus goes by Teefs, and they don't live long enough to have any adventures.


Lylla's voice, Linda Cardellini, always played Hawkeye's wife. As Rocket seems to be capable of thought and creativity beyond any of the Evolutionary's other creations, he tries to recapture the raccoon to study his brain. After he's attacked by Adam Warlock, the other Guardians are unable to cure Rocket without a passcode from the Evolutionary's corporation, so they go to infiltrate the headquarters, and then to the villain's failed pet project of Counter-Earth, inhabited by people who are part animal.


The version of Gamora from the past has become part of the Ravagers, and Peter Quill is kind of creepy in trying to get her to develop a relationship with her. I mean, I get how freaky it must be for him to be around someone who's essentially the same as her late girlfriend but not really, but she's still a different individual who doesn't appreciate his treating her like someone else. Rocket takes a lot of abuse in both the flashbacks and the present, and, especially in movies, violence to animals can come across as much worse than violence to people. There's a general moral of being nice to animals, and not just with Rocket, who takes it upon himself to save as many of the High Evolutionary's test subjects as possible. Adam, who seems a bit tacked on in some respects, questions his role in working for the Evolutionary and the Sovereign when he befriends the F'saki Blurp, a small animal sort of like a dog with features reminiscent of an axolotl.


Mantis is able to tame some monstrous Abilisks, and Kraglin has a pointless feud with Cosmo. I understand this is intended as a conclusion to the Guardians' saga, although I'm sure some of the characters will reappear. I have read that Zoe Saldana and Dave Bautista aren't interested in playing Gamora and Drax again, but I'm not privy to the world of Hollywood negotiations.

The Magic Book of Oz – I figured I should mention this, since I watched it on a Zoom event with Jane Albright. Filmed in 1994, it was thought lost, but it turns out that Stephen Teller had a VHS copy. The quality isn't great, but it's mostly intact. A very short movie, and even with its brief run time, it's still padded somewhat with repetitive dialogue and a dance sequence at the end. The plot involves a witch called Scratch who wants to eliminate all happiness in Oz, and finds out how to do so from a talking boot. The actors are apparently all Carroll's family and friends, many of them children. Carroll himself plays the Scarecrow. It is pretty accurate to the books, using several characters and magic items from them; but very little happens, so it seems like it's mostly just a way to showcase the costumes and props. Not that those are of professional quality, but they're pretty good representations of how they looked in the books. It's not the same as Scott Dickerson's book of the same title, although they're both referencing the same magic book. I'd seen some indications in the past that this would be made into a book, but it never was.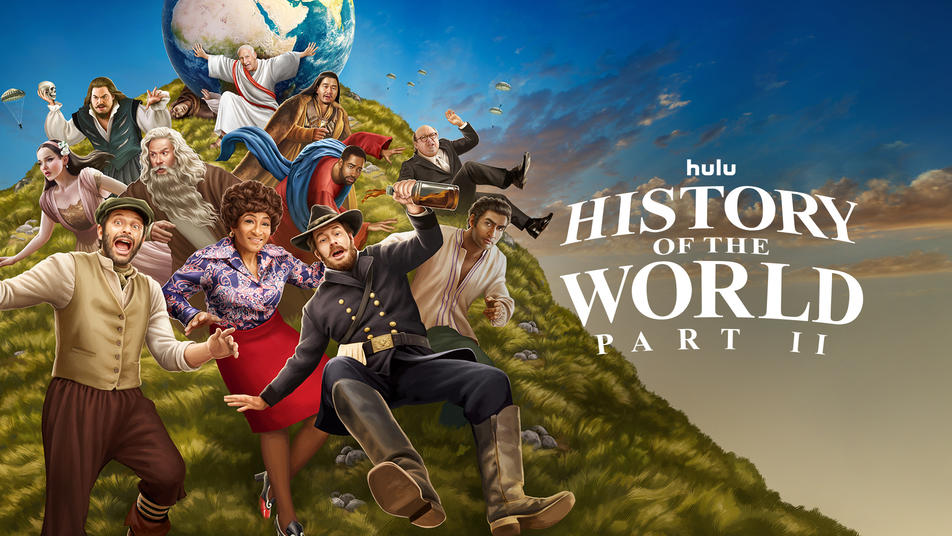 History of the World, Part II – The end of Mel Brooks's movie History of the World, Part I ended with a teaser for Part II, which he didn't intend to actually make. Apparently it's partially a joke on how Sir Walter Raleigh was executed before he could finish more than one volume of his The Historie of the World. But anyway, Part II finally exists now, as a multi-part Hulu release. Reviews I've seen for it haven't been particularly good, but I thought it was pretty funny. It's not like the original movie was particularly deep or subtle in its comedy either. It does mostly follow a simple formula of combining some historical person or event with more recent media, including a lot of social media jokes. I guess you can find that just about everywhere these days, but there were some combinations that made sense and I hadn't come across before, like Johnny Knoxville as Rasputin. Some of them worked in multiple parodies, like Jesus and his disciples spoofing Curb Your Enthusiasm, The Notebook, and the Beatles, in turn. Mary Magdalene as Yoko Ono is another connection that seems fairly obvious in retrospect, especially with how Mary was portrayed in Jesus Christ Superstar. While the movie had its sketches in chronological order, this skips back and forth between them, often meaning a single sketch is revisited throughout several episodes. I'm not entirely sure whether it would have been better to just do them straight through. Some of them, like the Civil War bit and the Shirley Chisholm sitcom, kind of ran out of steam after a while, although they were still amusing enough. Comedian George Wallace playing segregationist Governor George Wallace was a nice touch. Aside from spoofing, there were a lot of anachronisms, repeated gags, meta-humor, and references to Brooks's other works, all stuff I'm sure you'd expect. And yes, some fart jokes as well. As promised, both "Hitler on Ice" and "Jews in Space" are revisited, although "A Viking Funeral" isn't. Brooks narrated the show, and I don't know how much of the writing he did, but his spirit is recognizable; and a lot of modern comedians wrote and starred in it.